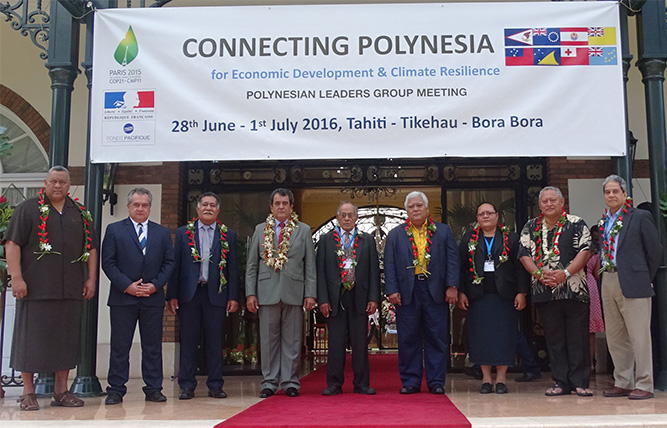 By Fatu Tauafiafi in Pape'ete
Leaders and officials of the Polynesian Leaders Group gathered today in Pape'ete, Tahiti, in a special conference to follow-up on climate change and other critical issues ahead of its 6th annual session later this year.
The conference updated leaders on issues discussed at the France/Oceania Summit at the Elysée Palace, Paris, in France last November.
The principal focus is on climate change with the two key issues being Oceans, and an overview of the UN's climate summit in Paris (COP21) last December where the PLG's Taputapuatea Declaration proved pivotal in incorporating the 1.5°C margin into the Paris Agreement.
The conference session format was based on presentations on themes followed by open discussions that would help feed into the development of a road map for the future.
Climate change
The Director-General of SPREP (South Pacific Regional Environmental Programme), Kosi Latu, is one of the key speakers providing an overview of decisions and resolutions made at COP21 . Special focus on future perspectives post-COP21 and what the Polynesian group ought to expect from the next UN climate summit meeting COP22 in Morocco later this year.
Leaders will focus on the theme of the Oceans-Te Moana Hiva, an idea of elaborating on a "Common Oceans Declaration" providing a sub-regional effort to be conveyed to the presidency of COP 21 and COP22 in Morocco.
The theme is also being used as a launching pad the second Preparatory Committee Meeting for United Nations Conference on the Ocean in Suva, Fiji, in June next year.
Leaders will also visit and observe French Polynesia's climate adaptation and resilience projects during the week.