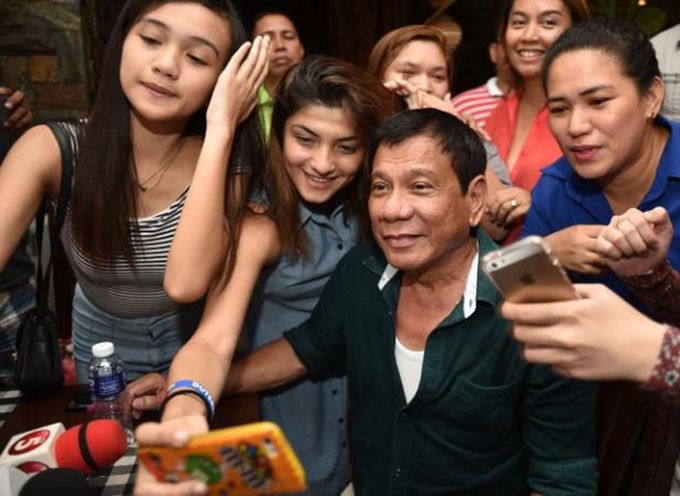 OPINION: By Amando Doronila in Canberra
Let there be no mistake about this. Since his proclamation by Congress as President-elect,  Rodrigo Duterte has engaged the media in a relentless campaign of coercion and harassment to browbeat journalists into submission before he takes office on June 30.
The interregnum marked an unprecedented test of wills between the presidency and the media, a ferocity not experienced by any incoming administration in the history of the adversarial relationship between the two social institutions.
The conflict has entered an impasse from which none of the protagonists appears to be backing off.
No incoming President has mounted such a  dangerous challenge to the media since the dictatorship of President Ferdinand Marcos.
In that conflict, journalists critical of the abuses of power by Marcos survived 14 years of the martial law regime, which jailed a number of its critics.
None of the critics was threatened with  summary executions by squads sponsored by nonstate law enforcement actors.
Under siege
In this running conflict, freedom of the press has come under siege and has in fact suffered erosion without the formal declaration of emergency powers of a burgeoning, aspiring dictatorship, as Duterte awaits his inauguration.
Are we indeed entering a twilight zone in the transition of our electoral democracy?
This impasse leaves little room for complacency in  the light of Duterte's campaign to eradicate crime and bureaucratic corruption in six months  from his inauguration on June 30.
Media reports abound about  this struggle of the press to defend its freedom from the creeping erosion posed by a supposed campaign against criminals, drug lords and corrupt officials demonised by partisan propaganda as enemies of the state.
One of the recent media reports comes from the Associated Press (AP). In this story, Duterte is reported to have blasted media groups for condemning his earlier comments that appeared to justify the killings of  journalists because they were corrupt or overly critical.
The journalists were depicted as allies of the criminal suspects tagged by Duterte. He refused to  apologise and dared reporters to carry out a threat to boycott his news conferences.
'Don't threaten me'
The AP reported that Duterte, in an outburst at a late night news conference in Davao City, lambasted  journalists, saying, "Don't threaten me. Boycott, boycott … go ahead, damn you!"
The outburst came after international and local news groups  expressed outrage over Duterte's remarks about the media killings.
Reporters Without Borders urged local media to boycott his news conferences until he issues a public apology.
Duterte replied that he would survive even if journalists boycotted him because he could ask state-run TV network to cover his activities.
"I'm telling the networks I do not need you," he said. He threatened to order his Cabinet members not to speak to journalists who are not from the state-run network.
According to the International Federation of Journalists, the Philippines has been the second deadliest country for journalists since 1990, behind only war-torn Iraq.
The New York-based Committee to Protect Journalists said Duterte's remarks  "apparently excusing extrajudicial killings threaten to make the Philippines into a killing field for journalists."
It said the country ranks fourth on its impunity index, which spotlights the countries where the killers of  journalists go unpunished.
Duterte's crass pronouncements not only sully the memories of journalists who have been murdered since 1986, the National Union of Journalists of the Philippines said.
Open season
Asked to comment on the unsolved killings of journalists, Duterte, in effect, declared open season to silence the media.
He made the sweeping accusation that many of those slain were paid to take sides on issues or had overly criticised people who could not tolerate personal attacks.
"Just because you're a journalist (doesn't mean) you're exempted from assassination if you're a son of a bitch," Duterte said.
"Your  freedom of expression cannot help you if you have done something with the guy."