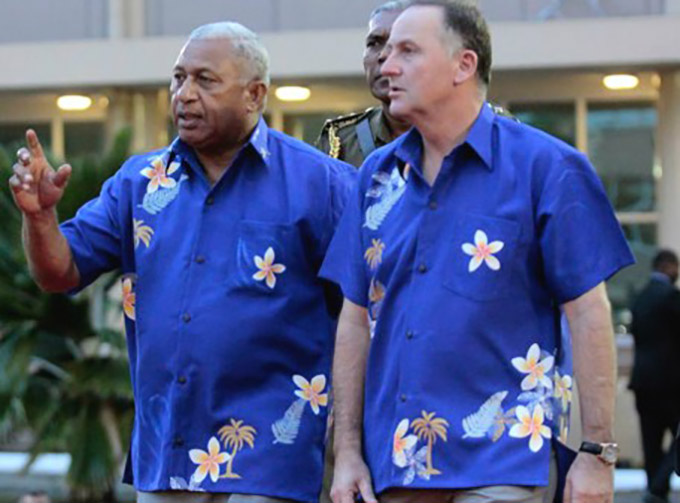 By Nasik Swami in Suva

Prime Minister Voreqe Bainimarama has labelled the New Zealand media as "generally hostile".
Speaking during the banquet to welcome New Zealand Prime Minister John Key at Suva's Grand Pacific Hotel last night, Bainimarama said according to the New Zealand media, what had happened in Fiji somehow lacked legitimacy.
"That somehow, I lack legitimacy and my government lacks legitimacy," Bainimarama said.
He said this was simply not borne out by the facts.
"We have moved on, but it would appear that the New Zealand media has not. Prime Minister [John Key], let me also confront head on the issue of media freedom and more particularly, the right of access to Fiji by certain of your journalists.
"No one who reports on events in Fiji fairly and in a balanced manner is excluded. Any journalist is free to criticise my government or me in an opinion piece or report criticism made by others in their news stories."
He said Fiji could not allow the wilful propagation of false information that damaged the national interest and "undermined our vulnerable economy".
'No other journalist banned'
"And that is what has happened in the case of certain New Zealand journalists and others from Australia. Incidentally, no journalist from any other country has been banned from Fiji," Bainimarama said.
"New Zealand television ran footage of tanks in the streets of Suva when our military does not own any tanks. They had been interposed from other sources. A claim was made that Fijian children were starving and were eating grass.
"These are egregious examples of wilful bias and misreporting. Yet, certain journalists in New Zealand and Australia — along with certain journalists in Fiji — think nothing of dispensing with the facts if they get in the way of the politically-weighted narrative they want to tell."
Bainimarama and Key have assured each other of their willingness to redefine the relationship between the two countries after a decade.
On his arrival in the country yesterday, Key assured Bainimarama that his trip was to foster a greater working relationship and ensure that Fijians were treated with respect by New Zealand.
"Ten years is a long time between kava bowls. The purpose of coming is to say that this relationship with New Zealand is a very important one and you [Mr Bainimarama] made that point that you want our relationship to be one of equals," said Key at the banquet.
Barbara Dreaver on the Fiji blacklist 'disgrace'