By Ami Dhabuwala and TJ Aumua in Daku village, Tailevu, Fiji

A 50-minute drive out of Suva city is Daku village, a community of 332 people nestled close to the sea and surrounded by mangroves.
As peaceful as it seems here, the village is one of many in Fiji where the people are working hard to adapt their daily lives to the burdens of climate change.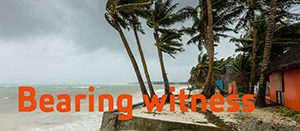 Village headman Biu Naitasi says he has noticed the sea-level rising around the village within the last 40 years.
But it wasn't until five years ago, with the assistance of the Pacific Centre for Environment and Sustainable Development (PaCE-SD) at the University of the South Pacific, first through an AUSAID project and then through the United States Agency for International Development's Coastal Community Adaptation Project (USAID/C-CAP), that they understood the terminology and its link with climate change.
'New term'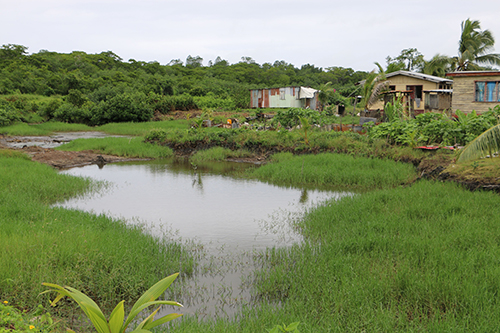 "[The term] climate change is something new for us. We haven't heard about it before," says Naitasi.
Arriving at the village, Asia Pacific Report bore witness to flood waters lapping on the door steps of village homes.
Remnants of the tropical cyclone Winston that savaged Fiji two months ago, and other tropical depressions which have left parts of the nation drenched in heavy rainfall, have left their mark.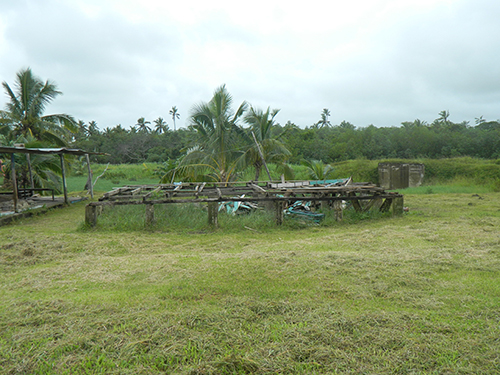 Waterlogged land leaves the village vulnerable to water-borne infections, like dengue, filariasis, and diarrhoea, and in the worst case scenario, cholera and typhoid.
Floodgate system
In 2015, USAIDs' C-CAP initiative implemented a floodgate system, built into the river wall which allows water to flow out of the village while blocking out sea water in high tides or floods.
But relief is still needed when king tides surge onto the land.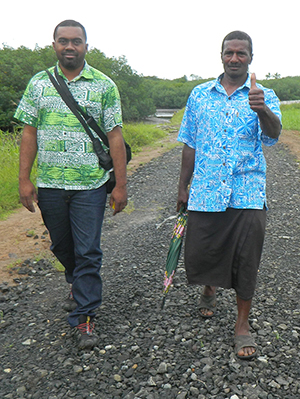 "Sometimes it's up to our ankles," Naitasi says. "We need another floodgate near our plantations as salt water has damaged our crops, but we're waiting for funds.
"The plantation area of the village gets flooded every rainy season and during high tides."
Sea water is also rusting and eroding the wooden and metal homes in the village.
The extreme weather in Fiji in the past month has seen the community having to rebuild and repair their homes.
"Some houses were blown off partly, and some completely, by the cyclone."
Took shelter
Headman Biu Naitasi says villagers were unable to use electricity and because of flooding many were forced to take shelter in the community hall.
Asia Pacific Report was told the strong winds completely destroyed a family home, forcing all eight members living inside to relocate.
Like Daku, many villages and communities in Fiji are facing similar problems. They are doing the best they can; using traditional methods and human power to heighten coastal walls and eliminate flood water from their homes.
But climate change is escalating, leaving coastal villagers living with the burden of its effects daily.
"Tell them to believe it, climate change is happening," says Naitasi, sending a message to the world.
"We can't stop climate change, but we can reduce its effect."