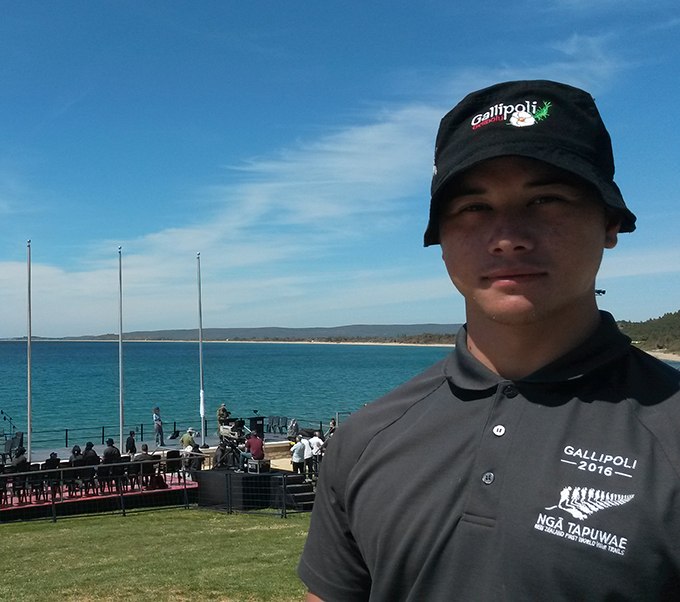 By Sara Stavropoulos

Ruatoria-born soldier Private Christian Hohepa has now travelled a long way since joining the New Zealand Army in 2013.
On his first-ever trip out of New Zealand, the 21-year-old Ngata Memorial College ex-pupil is a member of the Maori Cultural Group, which is part of the New Zealand Defence Force's contingent to Gallipoli for Anzac Day tomorrow.
The 33-strong contingent has entered the final stages of rehearsing the various roles they will play at the two Anzac Day services to be held on the Gallipoli peninsula in Turkey – the Dawn Service at the Anzac Commemorative Site at North Beach, and the New Zealand Service at Chunuk Bair.
PTE Hohepa is currently an apprentice armourer in the Army, learning to fix and maintain weapons. Outside the workshop, he's into physical training and enjoys a variety of sports.
"Joining the Army was a childhood dream," he said.
"Then when I got a bit older I could see it was a path to expanding my knowledge and potential, and also a way that I would be able to help people, which is really important to me."
Although PTE Hohepa is interested in most sports, right now his focus is on work and his involvement with the MCG. He has also taken on the study of mau rakau (traditional weapons skills) through the NZDF.
PTE Hohepa says he was "overwhelmed" at selection for the Gallipoli contingent.
"I was really surprised, and so humbled. There was a lot of talent at the selection wananga and to be chosen was a very proud moment for me, not just for myself but for the fact that I get the privilege of walking the same grounds as the brave soldiers who died here to protect our future."
PTE Hohepa isn't the first of his family to serve in the Army – his grandfather, John Grace, was a member of the famous Maori Battalion in World War 2. The Maori Contingent which served at Gallipoli was the forerunner of the Battalion.
"The NZDF is a solid career," he says.
"There's just so much opportunity, especially for rural people who might not have the range of experiences you get in the cities. You have experiences and learn in ways that you never would anywhere else."
Extra security for ANZAC Day at Gallipoli