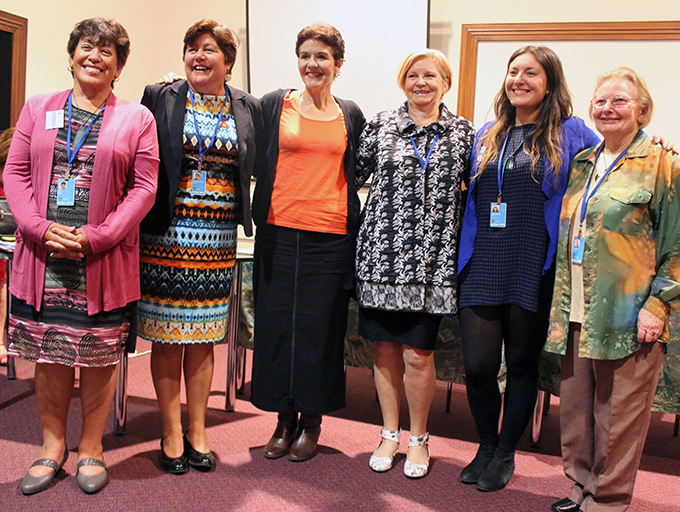 By TJ Aumua
Six of the Auckland participants who attended the UN Commission of the Status of Women held in New York in March have had an opportunity to report back on the discussions that were held on the international stage.
An echoed concern among the participants was the lack of Pacific and indigenous representation at the commission.
Some even feel disappointed with a particular presentation and report by New Zealand's Ministry for Women at the commission that "named and shamed" Māori and Pacific women.
At the "report back" session held by the Pacific Women's Watch NZ (PWW), Denise Ewe, area representative for Tāmaki Makaurau and national executive at the Māori Women's Welfare League (MWWL), said she felt honoured to participate in the commission but was "ashamed" over the ministry's presentation.
Ewe said singling out these specific ethnicities and attaching them to domestic violence data on a world stage was "sloppy" when there were groups in New Zealand that have concerns around the same issue.
"There was over 4000 women from every country and no other country specifically and deliberately named [the ethnicity].
"That for me was one of the lows I have to say," said Ewe.
Formal letter
Another participant who is also national president of the Māori Women's Welfare League, Prue Kapua, said the league was in the process of writing a formal letter about the issue to the ministry and will be meeting with them for a debrief within the next month.
"The issue about that particular report, and how it was used has already been raised, we have discussed that with the minister last year but it seems to find its way back into that forum."
Kapua said the commission was a huge learning experience where she gained perspectives on the process of negotiating on human right laws.
But she was disappointed with the "invisibility" of indigenous women in the world arena.
PWW board member and former Shakti Community Council employee Sara Daneshvar was also present at the commission and told Pacific Media Watch that in future she would like to see increased Pacific "grassroots" representation.
She said the Pacific was unfamiliar territory on the world stage and urged the New Zealand government to provide assistance for island nations to attend UN conferences and commissions like this one.
"For example, Papua New Guinea was not represented but we know there are plenty of organisations doing work on the ground there, but they barely have the funds to run their services. How are they going to have the funds to go to these conferences?"
Real issues
Daneshvar emphasised the real issues affecting indigenous and Pacific women were not going to be heard unless their voices and perspectives were presented directly by them.
Her message to women in New Zealand is the need to be aware of the resources they can access if their rights are abused.
"A lot of women do not know the threats committed against them are actually [human rights] abuses. All of them need to be aware that they should be treated as equals to men, that is their right as women, and if that is abused they need to know what can they do about it."
Beverley Turner, international secretary for PWW, said New Zealand had got a reputation of being "this first country for women to vote, but [other world countries] don't realise all the other issues beneath the surface.
"We would very much like an action plan for women," Turner said. "This government refuses to have a plan of action for women; categorically refused that recommendation from the Human Rights Council."
Turner's message: "You are women, you have the same rights as women anywhere—go for it."
TJ Aumua is contributing editor of the Pacific Media Centre's Pacific Media Watch freedom project.