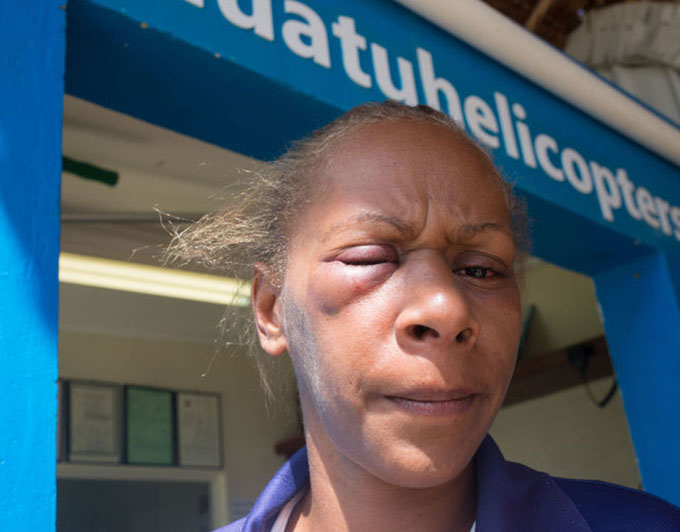 By Dan McGarry in Port Vila

A brave local woman has come forward with a shocking story of out-of-control violence in Vanuatu.
Bus and taxi drivers stand accused of forcibly abducting the local tour company employee, striking her repeatedly and forcing her to apologise to a transport association "president" for saying that local drivers were "big headed" and were acting "unprofessionally".
[Vanuatu Daily Post's Facebook feed reported today a police statement saying they had arrested seven men allegedly involved in the attack. Police were applying for a court warrant to remand the accused behind bars until "completion of police investigations and subsequent court hearings".]
Mid-morning Sunday, witnesses saw three men, said to be local transport operators, approach the booking offices of Vanuatu helicopters, located on the Port Vila Seafront. One of them was seen to be gesticulating angrily, pointing to something on his mobile phone.
Moments later, Florence Lengkon, Vanuatu Helicopters' office manager, was pulled by the arm from her office and allegedly forced to climb into the passenger seat of a nearby bus.
"I was in the office when they came. They shouted at me to explain myself," said Lengkon. "I was confused. I didn't know what they were talking about."
"One of them ran up to me," she continued, "and showed me his mobile phone, saying, 'Your comment on Facebook'."
The comment they were referring to, she said, was one of over 100 that comprised a discussion in which some blamed the Port Vila and Efate Land Transport Authority (PVELTA) for the recent spate of violence down at the wharf. Her comment, written in Bislama, said there were too many "big-headed" bus and taxi drivers, and labelled them as "unprofessional'" for their behaviour.
Negative comments
The overwhelming majority of the comments in the discussion were negative, many included swearing and intemperate language. It is not known why this particular comment was singled out.
"I was inside the office," she said. "One of them, who wasn't wearing a shirt, came and pulled me out of my office." She demonstrated how he had grabbed her upper arm and pulled her outside the kiosk.
"He pulled me out of the office, and told me I had to go see the president of the taxi drivers. We would go down there together and I must apologise to them."
Asked to specify which association they were referring to, Lengkon said, "They didn't mention any association. They only called him the president. They mentioned the name Melten, and said he was from Eton."
"After I came out of the office, they pushed me into the front seat of a bus, a red bus…. I was frightened. I asked them, 'If I get in the bus, what guarantee do I have that I'll be safe? How do I know you won't beat me?'"
She said they assured her that they wanted only to talk, and that she would not be harmed.
Lengkon says that she was slapped in the back of the head the moment she descended from the bus.
"There were a lot of taxi and bus drivers there [at the wharf]. A lot of them began to swear at me. I'd just got down from the bus when one of them slapped the back of my head. Another one blocked me and told the others, 'Don't hit her. We're just here to talk'.
'Apologise to the drivers'
"We came to the place where the president was, and he was continuously telling me I had to apologise to all the taxi and bus drivers because of my comment in Facebook.
"I apologised. I apologised for a second time, and one of them gestured like he was going to hit me. That's when I started to cry and bent down to hide my face. I don't know who hit me, but someone did. Blood began to run down my face."
A medical report indicated that Lenkon had bruising below both eyes, abrasions on her lip, a swollen nose and one eye swollen shut.
The entire episode was over within 15 minutes. Lengkon was brought to hospital for examination, treated and released. Police officials told her that the appropriate staff were not in the office that day, and she was given criminal complaint forms to fill out. No arrests were made and no investigation had begun as of press time yesterday.
There have been numerous reports of similar acts of violence and intimidation by local transport operators in recent months.
It is rare that someone has the courage to tell their story to the public.
Dan McGarry is media director of the Vanuatu Daily Post group.