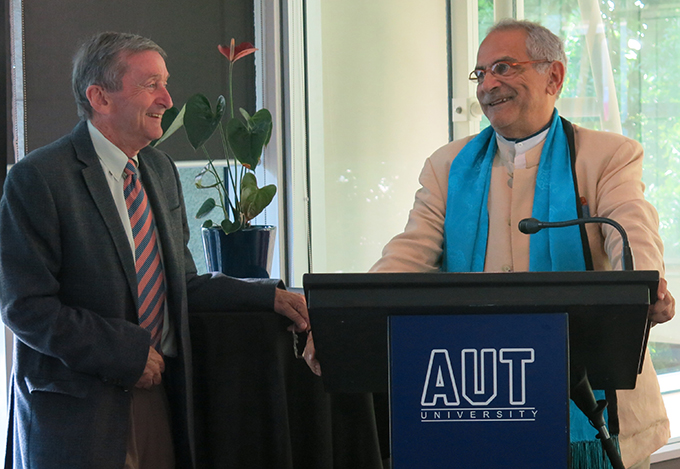 By Hannah Short
Former president of Timor-Leste and Nobel Peace Prize winner Dr José Ramos-Horta praised the educational opportunity being provided for students from his country in New Zealand this week.
Scholarship students from Timor-Leste welcomed him at a morning tea at Auckland University of Technology on Thursday.
​The students used the opportunity to ask Ramos-Horta to elaborate more on the development of Timor-Leste, both during and following his time as president.
Discussions covered the upcoming election in Timor-Leste, the state of the economy and the positive impact his successor as prime minister, Xanana Gusmao, has had on education.​
"Many Timorese​ have gone on study across Asia, in Australia and New Zealand. Thousands of Timorese are getting masters degrees in the best universities across the region now thanks to Xanana Gusmao and his government," said Ramos-Horta.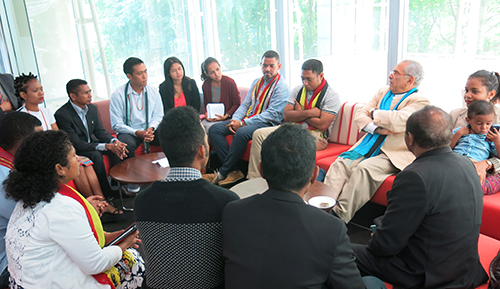 AUT currently has 10 students from Timor-Leste, with four more on their way, on New Zealand Development Scholarships, which are awarded by the Ministry of Foreign Affairs and Trade .
These students are supported by the Scholarships Office team, who provide assistance with everything from orientation to opening a New Zealand bank account.​​
Hosting delight
​​The University Scholarships Office was delighted to be approached to host Dr José Ramos-Horta​ and Timor-Leste students from AUT, Auckland University, Massey, Unitec and MIT on his visit to the country.
Philippa Hay, head of the University Scholarships Office, said students from Timor-Leste arrived in New Zealand motivated and well prepared for their studies, and usually adjusted to New Zealand culture without issue.
"Our students from Timor-Leste have less trouble adapting than most international students. They're extremely cohesive students, and support each other very well."
Dr José Ramos-Horta's most significant visit to New Zealand happened during the 1999 APEC Summit in Auckland.
His pleas for international assistance overshadowed the conference, shifting the focus from trade discussions to the raging violence in Timor-Leste.
Ramos-Horta has been recognised internationally as a peacemaker for his w​ork toward the safety and protection of the Timorese people.
His efforts include building a human rights network to defend the rights of the Timorese, liaising with the United Nations, and entering discussions with the Security Council. Along with Roman Catholic priest Carlos Belo, Ramos-Horta was awarded the Nobel Peace Prize in 1996.
He is now the Special Representative of the UN Secretary-General to the African nation of Guinea Bissau.
Hannah Short is a communications team member of Auckland University of Technology.
Wallace Chapman talks to Dr José Ramos-Horta on RNZ's Sunday programme – 13 March 2016