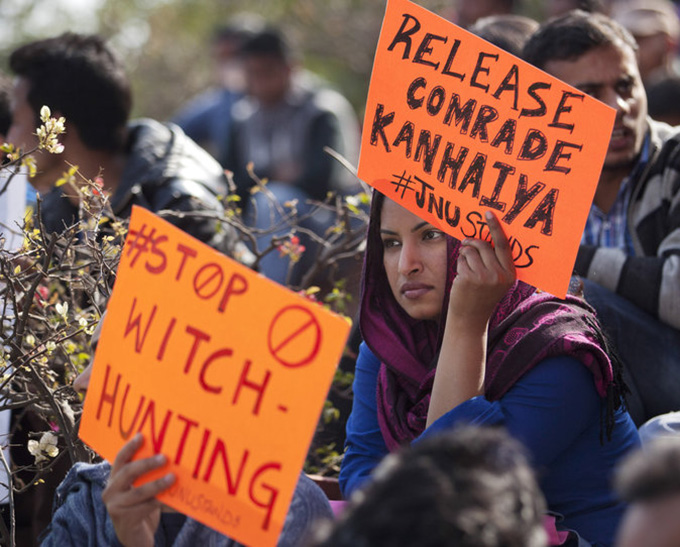 By Gayathry Venkiteswaran of IFEX
An arrest of a university student for sedition and subsequent attacks against journalists covering the story in India sparked international attention last month, drawing criticism from scholars and observers worldwide in defence of freedom of expression.
Jawaharlal Nehru University student union president Kanhaiya Kumar was arrested on charges of sedition and "anti-national" activities over "sloganeering" on 12 February, igniting widespread protests and debates on free speech.
Media personnel covering courts in Delhi were threatened, manhandled and beaten by lawyers on 15 February as they were trying to cover Kanhaiya Kumar's hearing.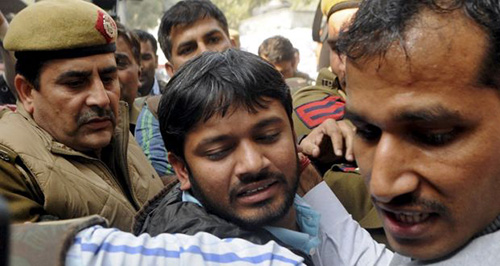 The Committee to Protect Journalists (CPJ) expressed its concern over the worsening state of press freedom in India following the incident, while the International Federation of Journalists also condemned the attacks.
According to media reports, hundreds of local journalists marched to the Supreme Court on 16 February to protest the alleged police inaction during the attacks, and called on the government to launch an inquiry into the incident.
Safety of journalists is a serious issue in India, as killings take place with impunity. On 13 February, three gunmen on motorcycles fatally shot journalist Karun Misra in the state of Uttar Pradesh, making it the third case in the state since June 2015, according to the CPJ.
While the motive was not immediately clear, the CPJ said the killing of Misra, who was Ambedkarnagar bureau chief of the Hindi daily Jan Sandesh Times, showed "India was becoming a more dangerous place to practice journalism and that Uttar Pradesh, in particular, has emerged as a dangerous place to be a journalist".
The Philippines saw the first journalist killing for the year in February, when radio broadcaster Elvis Oradniza of the Pagadian City-based dxWO Power 99 FM, south of Manila, was shot dead by an unidentified assailant on 16 February.
According to the Center for Media Freedom and Responsibility, Oradniza was said to have been reporting and commenting on illegal drugs and illegal gambling in Pitogo town before he was killed. CMFR said that if proven work-related, his killing would be the 151st case of journalist killed in the line of duty since 1986 and 30th under the current government of President Benigno Aquino III.
In response to the attacks against journalists in Afghanistan, President Ashraf Ghani issued a decree on 31 January to facilitate media activity and fight against impunity for crimes of violence against journalists.
Reporters Without Borders (RWB) welcomed the decree, which came after a series attacks against journalists, including the fatal shooting of senior Afghan broadcast journalist Mohammad Zubair Khaksar and the beating of freelance reporter Yahya Jawahari.
The CPJ said that while the government has made promises to address the situation, it should find an effective method of reversing the hostile environment for the media.
Digital rights
Signalling a victory for net neutrality in India, the Telecom Authority of India (TRAI) decided against a plan for differential data pricing for content by telecommunication companies and other providers, earlier in the month.
The zero rating plan, of which Facebook's Free Basics is an example, is aimed at offering access to some websites for free. The plan was widely criticised by activists, who mounted a campaign for net neutrality. Among those who welcomed the announcement were technology lawyer, Mishi Choudhary:
On the downside, netizens in the Asia and Pacific region continued to face criminal charges or restricted access to the internet as governments crack down on its critics. The Cambodian Centre for Human Rights (CCHR) said in its report that between August 2015 and February 2016, at least seven people have been arrested for authoring posts or commenting online, while 24 others have been publicly threatened on the basis of their comments. CCHR says the incidents happened against a backdrop of an increasingly hostile environment for freedom of expression.
Also experiencing similar trends is Malaysia, where the Internet regulatory body has been blocking access to news websites while the police have begun to monitor social media users.
Among the sites blocked include the blogging platform Medium.com, which the government targeted as it was used by an investigative news outlet critical of the government, the Sarawak Report, also banned in Malaysia. Groups commenting on the issue included the Electronic Frontier Foundation and RWB, while the Malaysian Centre for Independent Journalism expects that online expression and access to information will only worsen as plans to tighten online laws are expected to be tabled in Parliament soon.
In Tibet, a popular blogger, Druklo was sentenced to three years in jail, a move that was criticised by the CPJ. According to news reports, Druklo had been in custody since March 2015 believed to be over his blog and social media posts about Tibet including political repression by Chinese authorities.
Media freedom laws
Media policies and laws are being considered in various countries with varying implications. In Pakistan, the government has begun a consultation with various groups to draft the Media Workers Safety and Welfare Bill 2016, in response to demands for better protections for journalists in the country.
A joint submission by organisations like the Pakistan Federal Union of Journalists, Media Matters for Democracy and the Pakistan Coalition on Media Safety, among others, calls on the government to set up mechanisms to monitor attacks against journalists and to create special prosecutor's offices to initiate and expedite investigations and prosecutions in cases of threats against the media.
The government of Nepal has formed a committee to study a new media policy, in light of the new constitution that was adopted in 2015. A draft policy was introduced in 2012 but the government was criticised for not consulting key stakeholders.
IFEX member Freedom Forum welcomed the announcement and offered its expertise and inputs to the committee.
In Thailand, the junta's draft constitution is expected to set back the democratic gains in media freedom and freedom of expression by at least 20 years. In its analysis of the draft, the Bangkok-based Southeast Asian Press Alliance commented that the current draft neglects the guarantees for human rights that was contained in previous constitutions, broadens the scope for media violations, and does away with independent regulatory bodies, all of which could restrict political communication.
Honouring killed blogger
A year on since the brutal killing of Bangladeshi-American secular blogger Avijit Roy, free expression advocates, friends and family commemorate the incident and call for justice. Avijit was stabbed to death by suspected militants after attending a premier book festival on 26 February 2015 in Dhaka.
Avijit's stepdaughter, Trisha Ahmed, shares her memories in a piece in CNN while his friend, Shabnam Nadiya, writes an open letter to him, available here on PEN America's website. Booksellers in Bangladesh said they have had to drop Avijit's works fearing that they could suffer the same fate as his.