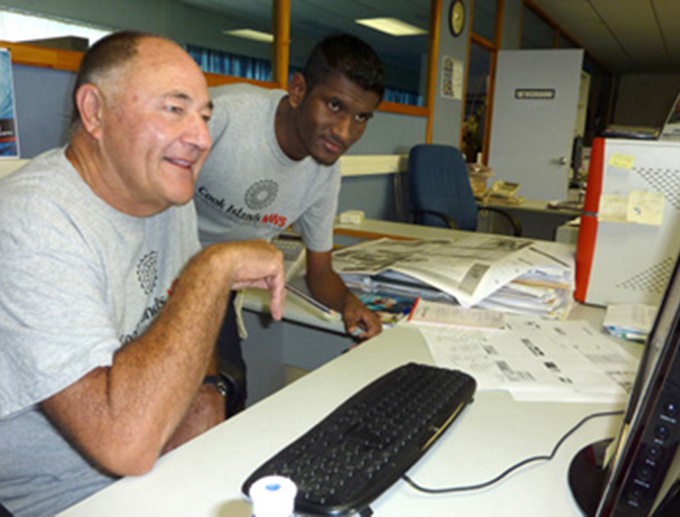 By Florence Syme-Buchanan in Avarua, Rarotonga
One of the Cook Islands' top broadcasters and newspapers want government heads of ministries and ministers to be more transparent and accountable to the public.
Radio Cook Islands talkback host and interviewer Tony Hakahoro says HOMs "absolutely have a duty to the public, they are working  for government voted by the people and are working on behalf of the people – they should be responding to matters of public concern".
He says ever since starting his radio programme almost a year ago, it's become "so clear senior government officials are very, very reluctant to be interviewed".
Hakahoro believes this could have a lot to do with job security. Because of this, he says some HOMs "have difficulty admitting there are problems, discussing issues in an open forum in an honest way".
"Whenever there are issues in their ministries they should front up and honestly explain to the community what is going on – the same applies to minister because it's the people who put them there and people deserve to know'.
Hakahoro raised Immigration issues during a programme last week saying he wanted to interview Principal Immigration officer Kairangi Samuela on these. She declined the interview.
The talkback host says people have a right to know how a New Zealand citizen of Tonga descent was permitted entry into the country without a return ticket.
Homeless man
The man was homeless and is said to have developed mental issues and was subsequently taken in by a local family.
He says the PIO should also explain to the public how a Fijian national is serving a six-year jail sentence at Arorangi Prison for raping a 12-year old girl – "why hasn't he been deported".
"Here we are wanting to deport this Samoan sportsman who has been convicted of a less serious crime, while a foreign rapist is in our jail courtesy of the Cook Islands taxpayer.
"I want to ask Immigration what is their policy in relation to these cases and how some are being treated very differently to others."
Hakahoro also refers to the Pacific Schooners scandal and how officials and ministers were "in denial right from day one".
"I've found the Office of the Prime Minister, especially the prime minister himself, to be very reluctant to be interviewed and that's probably a combination of not wanting to front up and never being here.
"Face up to our people and be honest with our people", urges Hakahoro.
"Once you start dodging questions, avoiding interviews, then more and more of our people start getting suspicious and start asking questions".
Right to ask
He adds the public and media have every right to ask questions of government when there are suspected dodgy dealings and poor administration.
Matariki FM radio host William Framhein says his experiences with officials evading questions 'is no different to what Tony is saying but furthermore if you put written questions to them you get the silent treatment, viz no response'.
"Those that have come on radio are also pretty good at dodging the question the PM and (minister) Mark Brown are good at it", says Framhein.
"I don't know how some of these guys can lie to our people".
Publisher George Pitt who writes colourful pieces for the Herald promises, "if heads of ministries are going to duck and dive refusing to converse with the media they will be named then bombarded with the processes that will yield withheld information – the OIA (Official Information Act)".
Pitt says getting information out of government officials isn't a problem he has at present and he's found those spoken to be "cooperative". He attributes this to years developing media good will.
Reporters are increasingly being forced to request responses to questions under the Official Information Act.
Slow process
Most say this is usually a slow process as HOMs will delay responding until the 20-days limit is reached.
Hakahoro says the prime minister and Mark Brown keep saying the government has 'no secrets' but the refusal of HOMs to be transparent to the media and public suggests otherwise.
Cook Islands News publisher John Woods says his experience after 10 years of editing the country's daily is that "bureaucrats get no training or enlightening in the art of communication and the politicians set a terrible example because they  start out not even believing in the public's right to know".
"Also I've seen next to no real reporting or journalism by radio and television here, other than plagiarising of our news stories in order to beat up superficial electronic media controversy to the point where the daily press alone is virtually the only practitioners of hardball journalism," Woods said.
—