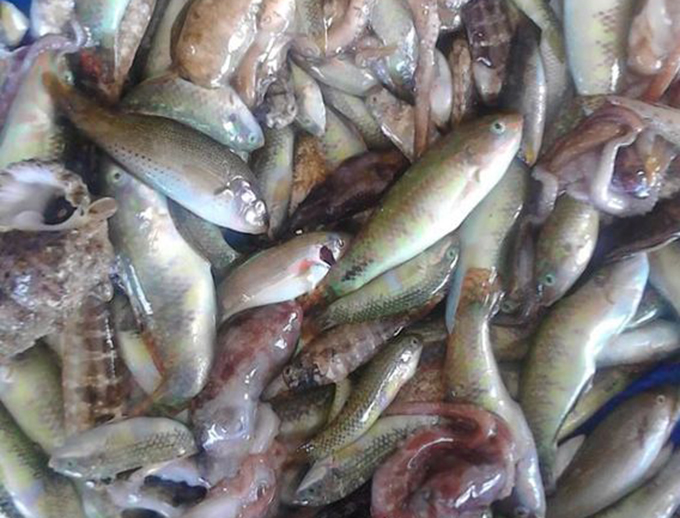 Thousands of reef fish of different sizes and species have died suddenly on the reef at Pango village near Vanuatu's capital of Port Vila.
The increase in temperature is thought to be the cause, say officials.
Children in the area who went swimming in the morning on Saturday unexpectedly found the dead fish, included octopuses, floating around the water, said a villager.
Surprised villagers went out with dishes to collect the dead fish — not for consumption but for burning them.
This is not the first time this year that reports of dying fish have been made in Port Vila.
A quantity of fish were reportedly found dead and deposited on the waterfront properties at Emten Lagoon last month.
This has caused residents to believe that the unusually hot temperature linked to El Niño is contributing to killing the fish.
Call for investigation
The environmental agencies or the Department of Fisheries should investigate to determine the cause of kill, said the Vanuatu Meteorology and Geo-Hazards Department (VMGD) in statement.
The department conveyed that the temperature for Efate recorded last Friday was "high".
Efate recorded a 34 degrees Celsius from Monday to Thursday increasing to 35.4 on Friday with a minimum of 23 deg C.
Asked if 35 deg C was a record, the department replied that Port Vila had recorded 33 deg C within the same period last year, which meant this year is much hotter, though Malekula and Tanna did registered temperatures of 35 deg C before.
The sea surface temperature registered was between 28 to 29 degrees, which according to the geo-hazards department "is hot".
"Heating over the sea surface combined with very dry humidity could likely be contributing factors to the destruction of these fish stocks,
"Fish [that] swim in the warmer surface (considered 50m deep) will be affected, especially in lagoons because the hot sunny days made the water too warm for the fish to survive healthily."
Meanwhile, the country's humidity is also lower, which means the air is drier.
The geo-hazards department said below normal rainfall was still expected throughout the country in the next few months. Thus the atmosphere was expected to get hotter until the arrival of La Niña, probably by end of this year.
Fiji fish kills: unprecedented temperatures threatens marine eco-system