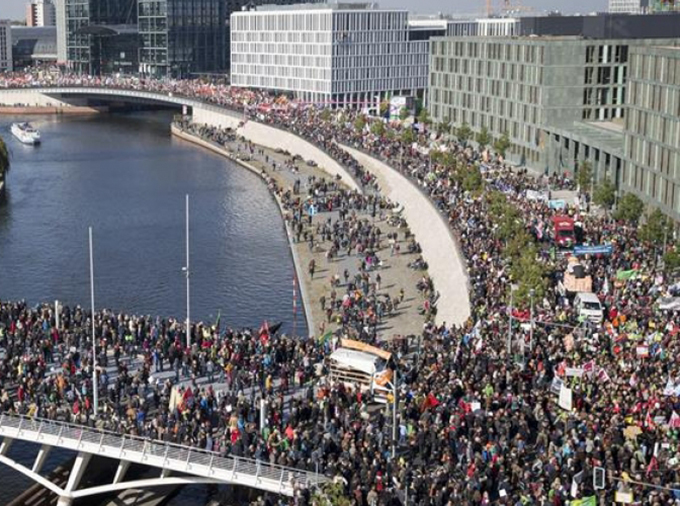 By Tyler Durdan, a blog commentary written after the anti-TTIP protests in Berlin last October when more than 250,000 people demonstrated.
FLASHBACK: When it comes to official and media opinion on President Obama's crowning trade "achievements", the Trans-Pacific Partnership (TPP) and the Transatlantic Trade And Investment Partnership (TTIP), the party line is united.
As previously noted, Barack Obama has assured the population that this treaty is going to be wonderful for everyone:
In hailing the agreement, Obama said, "Congress and the American people will have months to read every word" before he signs the deal that he described as a win for all sides.

"If we can get this agreement to my desk, then we can help our businesses sell more Made in America goods and services around the world, and we can help more American workers compete and win," Obama said.
The mainstream media's chorus of support for these trade deal is likewise deafening: here are some indicative headlines from this past Monday:
The far less popular opposing view, one repeatedly presented here, is that like with every other "free trade" agreement that the US has entered into since World War II, the exact opposite is what will actually happen: the outcome will be that the US trade deficit (which excluding petroleum is already back to record levels) will get even larger, and we will see even more jobs and even more businesses go overseas, thus explaining the secrecy and the fast-track nature of the TPP and TTIP's passage through Congress.
And while the US population, which is far more perturbed by what Caitlyn Jenner will wear tomorrow than DC's plans on the future of world trade, has been mute in its response to the passage of the first part of the trade treaty, the TPP – after all the MSM isn't there to tell it how to feel about it, aside to assure it that everything will be great even as millions of highly-paid jobs mysteriously become line cooks – other countries are standing up against globalist trade interests meant to serve a handful of corporations.
Case in point Germany, where today [10 October 2015] hundreds of thousands of people marched in Berlin in protest against the planned "free trade" deal between Europe and the United States which they say is anti-democratic and will lower food safety, labor and environmental standards.
TTIP critics fear that it would lead to worse safeguards in Europe, bringing down standards for consumer safety, food and health or labor rights down to those in America.
European nations have stricter regulations for things like genetically modified foods or workers benefits than the US does. There is also discontent with the secretive nature of the negotiations, which prompts sceptics to assume the worst about the document they would eventually produce.
The organisers – an alliance of environmental groups, charities and opposition parties – claimed that 250,000 people were taking part in the rally against free trade deals with both the United States and Canada, far more than they had anticipated.
—