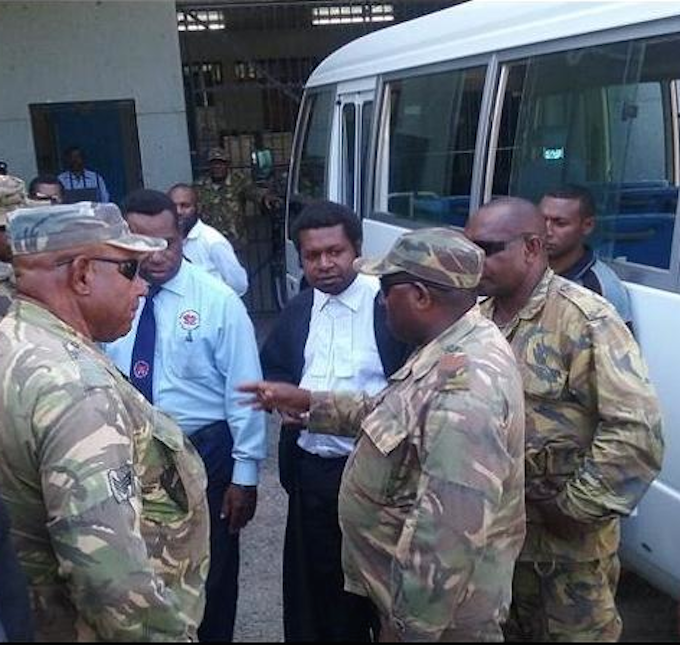 Deputy Defence Force Judge, Justice Allan David, reviewed the case today but adjourned the hearing to give state lawyers and the PNGDF more time to complete court files.
Counsel representing the state, Captain David Kuvi, told the court they were yet to conduct record of interview with four of the 11 officers who were charged for mutiny and misconduct on an operational service under the Defence Force Act.
He indicated that most of the witness statements the state would be relying on had been collected.
They would now need more time to complete investigations which includes record of interviews for the four remaining soldiers.
They will return to court on February 16 for a hearing and further directions while the 11 officers remain on a bail of K1500 (NZ$760).
The accused officers are commanding officer Major Benjamin Edimani, Warrant Officer Ludwig Miugle, Warrant Officer Robin Melerot, Warrant Officer Scotty Kaule, Sergeant Alex Agiru, Sergeant Amos Kaupe, Sergeant Mairi Mairi, Sergeant Joel Yupanga, Sergeant Urban Guria, Corporal Walter Waimi and Corporal Henry Worihun.
Two deaths
In an earlier report by PNG Today, the Army's Acting Chief of Staff, Colonel Raymond Numa said the soldiers would face a military court over the death of two of their comrades when they were engaged with locals in Helu province (formerly part of the Southern Highlands).
"All the soldiers that were based at Komo, including their commanding officer, are now in Port Moresby and investigations are already in progress," Colonel Numa said.
The accused soldiers from Murray Barracks Force Support Battalion had taken the Army to court over their outstanding allowances and refused orders to return.
However, they were later disarmed and brought back to Port Moresby under guard.