From Pacific Media Centre
Pasifika Renaissance, an NGO dedicated to Pacific oral histories, has appealed to groups documenting traditional knowledge to upload stories to their YouTube channel.
Among recent collaborators are Papua New Guinean journalist and community worker Milton Tyotam Kwaipo, from Rabaul, who runs a multimedia studio in Madang Province.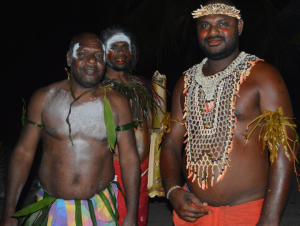 After earning a BA majoring music, journalism and public relations at the University of Papua New Guinea in 2006, he later worked for NGO World Vision International in PNG, Timor Leste and Vanuatu from 2009 to 2015.
He also earned a Bachelor's Degree in Community Development in 2014.
In 2015, he started Milate Multimedia Produxion that focuses on using multimedia (music, audio, radio programs, video and photography) for social empowerment through sharing of 'positive stories', focusing on local communities developing themselves rather than waiting for outside sources to aid them.
He is also a musician, playing a flute, saxophone and other instruments.
Pasifika Renaissance's appeal said:
Since many interested and motivated people have asked us about possible participation in our NGO's activities, we decided to invite you to document oral traditions from knowledgeable elders in your village or island by a video/digital camera, tablet or cellphone to upload your videos on our YouTube page.

The topics of your elders' narrations include legends, folktales, colonial histories, experiences of WWII and dying cultural practices.
Narrators can speak in their languages or English in your videos, since the target of your videos is younger people on your island.
This project will primarily enable you to record disappearing oral traditions of your home island and share them with your people.
Furthermore, through this project, we seek your active involvement in revitalising your island's traditional culture and creating a larger "renaissance" movement in a wider Pacific region.
In addition, if you have an opportunity to take videos of cultural practices (e.g. fishing, festivals, rituals, dances) on your island, please share them with us to upload them on our YouTube page.
If you are interested in this project, please send us a message on FB or at pasifika.renaissance@gmail.com, so we'll send you more detailed info. We are very looking forward to your participation in our endeavor!

We are very keen to collaborate with a researcher, government official, and interested community member of the Pacific islands to pursue our common goals. Please contact us to discuss possible collaboration. Thank you!
The latest upload to the channel has been a "Western-style" dance "Kahlek Dil" from Pohnpei.
In addition to earlier Western influence in island music in the 19th century, Pohnpeian people learned several forms of foreign dances during the German administration (1899-1914).
One of them is marching dances, which were created through interactions with foreigners in the Marshall Islands and spread throughout Micronesia in the early 1900s.