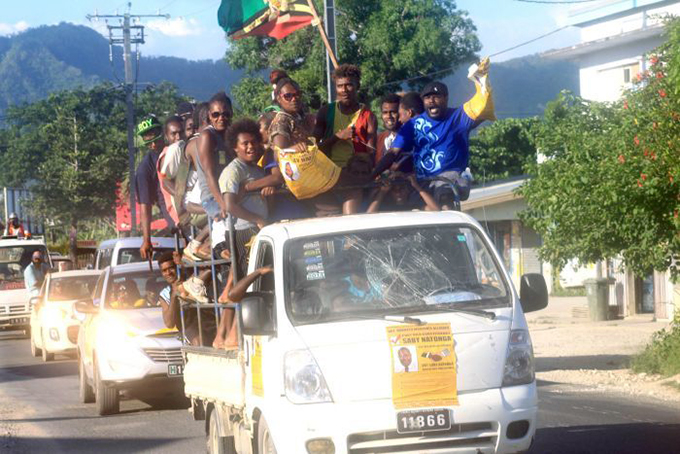 Report from Pacific Media Watch

The party that led Vanuatu at independence more than three decades ago is confident that it will emerge as part of the new government after Friday's snap election.
The Vanua'aku Pati has entered into a bloc with several other parties, including the Graon mo Jastis Pati and National United Party, to try to gain the majority needed to form a government and make constitutional changes hoped to end years of political instability.
A newly-elected MP for Vanuatu's capital, Port Vila, says he is confident the multi-party bloc will succeed in gaining the parliamentary numbers needed, reports Radio NZ International.
Kenneth Natapei, son of the recently-deceased former Prime Minister Edward Natapei, was elected to one of the city's six seats.
Natapei says the bloc needs to win the support of some independent MPs to form a government, but he is confident that will happen and that it will last a full term. He told RNZI:
"We will keep together. We signed an agreement a few weeks before the campaign, so we are trying to gather all our numbers together and try and see if we can have a simple majority to run the next government."
Port Vila erupted for a brief time on Saturday with the sound of a convoy of vehicles tooting their horns and people cheering out loud as the successful candidates paraded through the potholed streets of this town, reports Loop Vanuatu.
At one impromptu parade, dozens of people squeezed onto the back of flatbed trucks, some hanging off the edges, and filled beyond capacity the loud, run-down vans that serve as buses here.
They cheered and leaned out their windows waving flags as the convoy moved along slowly, drawing residents from their houses to watch the spectacle roll by.
In a truck at the front, waving with an effusive grin, was Ishmael Kalsakau, a newly-elected MP, who wasn't stopping for an interview, reports RNZI's Jamie Tahana.
The parades ended a snap election that appeared about as suddenly as Kalsakau's parade did on Rue de Cornwall.
In December President Baldwin Lonsdale dissolved Parliament following a months-long political stalemate.
That followed the jailing of 14 MPs for corruption, including the deputy prime minister Moana Carcasses and the then-Speaker of Parliament, Marcellino Pipite's decision to pardon them in his capacity as acting president at the time.
Another, Willie Jimmy, was convicted but given a suspended sentence for pleading guilty.
The pardons were overturned, and the MPs were jailed for up to four years, and banned from public office for ten.
A month later, Vanuatu went to the polls in what the chair of the Commonwealth's observer group, Hubert Ingraham, a former prime minister of the Bahamas, said was "an orderly and peaceful" affair.