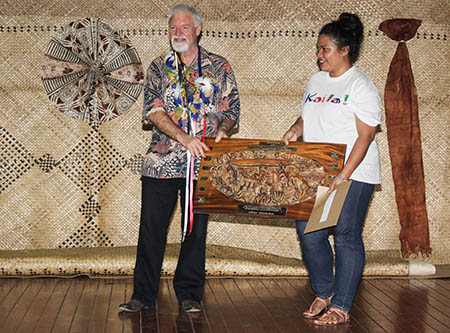 The University of the South Pacific regional journalism programme began 21 years with support from the French government. Recently USP hosted its annual journalism awards. Guest speaker Pacific Media Centre director Professor David Robie, head of journalism at USP in 1998-2002, reflects on challenges facing journalism in the Pacific for Wansolwara newspaper.
WHEN I embarked on a journalism career in the 1960s, the future and our role in society were clear-cut and one tended to specialise in print, radio or television. I had a fairly heady early career being the editor at the age of 24 of an Australian national weekly newspaper, the Sunday Observer, owned by an idealistic billionaire, and we campaigned against the Vietnam War.
Our chief foreign correspondent then was the late famous journalist Wilfred Burchett, who at the end of the Second World War 70 years ago this year, reported on the Hiroshima nuclear bombing as a "warning to the world".
Nowadays the global warning is over climate change and politicians being reluctant to make the really hard calls needed at COP21 in Paris.
By 1970, I was chief subeditor of the Rand Daily Mail in South Africa, the best newspaper I ever worked on and where I learned much about human rights and social justice, which has shaped my journalism and education values ever since.
I travelled overland for a year across Africa as a freelance journalist, working for news agencies such as Gemini, and crossed the Sahara Desert. It was critically risky even then, but doubly dangerous today.
Eventually I ended up with Agence France-Presse as an editor in Paris and worked there for several years. In fact, it was while working with AFP in Europe that I took a "back door" interest in the Pacific and that's where my career took another trajectory when I joined the Auckland Star and became foreign news editor.
The point of me outlining some brief moments of my career is to stress how portable journalism was as a career in my time. But now it is a huge challenge for young graduates going out into the marketplace.
These days they don't even know whether they're going to be called a "journalist", or a "content provider" or a "curator" of news – or something beyond being a "news aggregator" – such is the pace of change with the digital revolution. And the loss of jobs in the media industry continues at a relentless pace.
Fortunately, in Fiji, the global industry rationalisations and pressures haven't quite hit home locally yet. However, on the other hand there are continuing concerns with the Media Industry Development Decree and the "chilling' impact that it has on the media regardless of the glossy mirage that government spin doctors like to put on it.
One of the ironies of the digital revolution is that there is an illusion of growing freedom of expression and information in the world, when in fact the reverse is true.
These are bleak times with growing numbers of journalists being murdered with impunity, from the Philippines to Somalia and Syria.
The world's worst mass killing of journalists was the so-called Maguindanao, or Ampatuan massacre (named after the town whose dynastic family ordered the killings), when at least 34 journalists were brutally murdered in the Philippines in November 2009.
Increasingly savage slayings of media workers in the name of terrorism are becoming the norm, such as the outrageous attack on Charlie Hebdo cartoonists in Paris in January. Two masked gunmen assassinated 12 media workers – including five of France's most talented cartoonists – at the satirical magazine and a responding policeman.
In August, five masked jihadists armed with machetes entered the Dhaka home of a secularist blogger in Bangladesh and hacked off his head and hands while his wife was forced into a nearby room.
Last month, Reporters Without Borders published a booklet about the "Hostile Climate" for journalists and revealed that 10 environmental reporters had been killed since 2010.
According to the New York-based Committee to Protect Journalists in figures released this year, 506 journalists were killed in the decade between 2002 and 2012, almost double the 390 slain in the previous decade. (Both Reporters Without Borders and Freedom House have also reported escalating death tolls and declines in media freedom.)
In these troubled times, the achievements of the University of the South Pacific and its talented latest crop of graduates should be celebrated. Close to 200 USP journalism graduates are now contributing to the Fiji and the Pacific region's media and related careers.
It was an honour to return to USP as guest speaker for this year's awards marking the 21st anniversary of the founding of the regional Pacific journalism programme.
It was also an honour to be sharing the event with M. Michel Djokovic, the Ambassador of France to Fiji, Kiribati, Nauru, Tonga and Tuvalu, given how important French aid has been for this regional Pacific programme.
France and the Ecole Supérieure de Journalisme de Lille (ESJ) played a critically important role in helping establish the journalism degree programme at USP in 1994, with the French government funding the inaugural senior lecturer, François Turmel, and providing a substantial media resources.
I arrived in Fiji four years later in 1998 as Head of Journalism from Papua New Guinea, along with television lecturer Ingrid Leary, and what a pleasure it was working with the French Embassy on a number of journalism projects at that time, including an annual scholarship to France for journalism excellence.
Through its long-standing award-winning newspaper Wansolwara – now 19 years old, surely a remarkable accomplishment for any journalism school in the Australasian and Pacific arena, the student journalists have played an important role in independent, engaging and truth-seeking journalism.
Personally, I shall always remember with pride my experiences with USP and Wansolwara over the five years I was with the campus – the longest by far of any expatriate educator. Wansolwara was founded by student editor Stan Simpson and lecturer Philip Cass. And Pat Craddock of the USP Media Centre was another key person in building up the programme.
One of the highlights for me was the reporting of the George Speight coup in May 2000 by the courageous USP students. They won many international awards for this.
A tribute to Dr Shailendra Singh and his current team, Irene Manarae, Eliki Drugunalevu and Dr Olivier Jutel. Shailendra was recently the first home-grown academic at USP to gain a PhD in journalism at the University of Queensland with the first major survey of the Fiji mediascape for more than a decade.
No matter what government, political or industry pressures graduating journalists face, they should hold on strongly to our core values of truth, accuracy, honesty and courage in the public interest.
Our communities deserve the best from their media in these deceitful times.