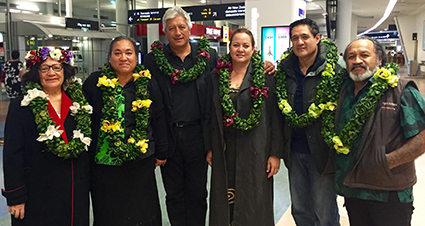 Report by Pacific Media Centre
Sharing knowledge and skills of traditional art forms – ranging from tattooing to drumming – provide insights into a distinct culture, reports Georgina Harris of Asia-Pacific Journalism.
The Auckland War Memorial Museum recently hosted six Cook Island artists as part of Creative New Zealand's Pacific Heritage Artists Project.
A day of demonstrations, talks and workshops on September 12 allowed the specialist artists to share knowledge and skills of their heritage art forms – ranging from tattooing to drumming – that are distinct to the Cook Island culture.
The project is a Creative New Zealand annual exchange intended to support Pacific art links with New Zealand.
Piloted in 2012 with seven heritage artists from Samoa, the programme is aligned with certain celebrations in the Pacific such as language weeks or independence. Tonga was chosen in 2013 with Niue following last year.
This year was tied with the 50th anniversary of self-governance in the Cook Islands on August 4.
Senior outreach programmer at the Auckland War Memorial Museum, Ole Maiava, said the response was "very positive".
He said there was good feedback from attendees, especially regarding the talks by master tattooist Tetini Pekepo and master vaka navigator Tua Pittman.
Navigation techniques
At his talk, Rarotongan Tua Pittman spoke of his time on the vaka Marumaru Atua, including visits to San Francisco, Niue and Sydney.
Marumaru Atua mixes modernity with traditional navigation techniques; while using the stars and clouds for directions there is also a GPS on board "for safety". One of the crew keeps on eye on the GPS but does not disclose the information to the rest of the team.
Pittman said his passion and love of Cook Island culture was intertwined with vaka and navigation.
Jemima Peau, senior weaver (Raranga Rito) said she was there to "represent the weaving mamas" of the Cook Islands with her hats, jewellery and fans.
Peau is from the village of Omoka on the island of Penrhyn, and currently lives in Rarotonga. She was taught to weave by her mother.
She said that weaving was a connection to Cook Island culture as the material used from the coconut tree was unique to the Pacific.
Speaking about her time in New Zealand, Peau said she was appreciative of Creative NZ choosing rito weaving to be one of the heritage art forms.
'Awesome success'
The artists also did demonstrations and workshops at Te Papa Tongarewa in Wellington and Fresh Gallery Otara.
Makerita Urale, Creative NZ's senior arts adviser for Pacific Arts, helped initiate the pilot through the agency's international team.
Urale said the programme had been well-received since its first year.
"It's been an awesome success in terms of sharing each different country each year."
Urale said there was great importance in keeping the heritage arts alive.
"It's not just about making material things like the vaka or a hat or piece of jewellery; the making of these works incorporates a lot of our cultural identity, our history and our creative process."
The programme is free, something that Urale said was deliberate.
Partner institutions
Creative NZ partners with public institutions such as Te Papa and Auckland Museum but decided last year to include Fresh Gallery Otara as it is an area where a lot of Pacific people are.
Consultation is key to the project with CNZ receiving advice and support from experts and curators at Te Papa and other leading Pacific figures.
CNZ also decided to bring a cultural adviser on board to help.
"Everything is run past the cultural adviser to ensure the right kaupapa and protocol" said Urale.
This year was Cook Islander Caren Rangi who is on the CNZ Arts Council and sits on the board of NZ on Air. Rangi helped to run the programme and host.
There is also an artist liason co-ordinator. This year Tuaratini Raa took this position.
This role is taken by someone with knowledge and standing who can engage with the community.
Cultural 'conversation'
Ana Sciascia, the Creative NZ international adviser who helps co-ordinate the programme with Urale, emphasised the importance of the cultural exchange, or "conversation" between the tangata whenua of Aotearoa and the visiting artists.
This year was the first time the artists were formally hosted by the contemporary Maori art collective Toi Maori Aotearoa, where Sciascia said the visiting artists saw the "strength of coming together as a collective for the arts of your culture", something she said was inspiring for the Cook Island visitors.
They are also taken behind the scenes of the Te Papa Pacific collection and given a tour of exhibitions at Auckland Museum with the curators.
At present the programme only visits Auckland and Wellington, something that Sciascia said would remain for the time being, due to budget restraints.
The nation for next year's project has not yet been decided.
Both the Auckland Museum and Te Papa purchase work from the heritage artists each year, and Urale acknowledges this is a positive for Pacific arts.
"It will be available for future generations and will be looked after properly."
Georgina Harris is a postgraduate student journalist at AUT University.