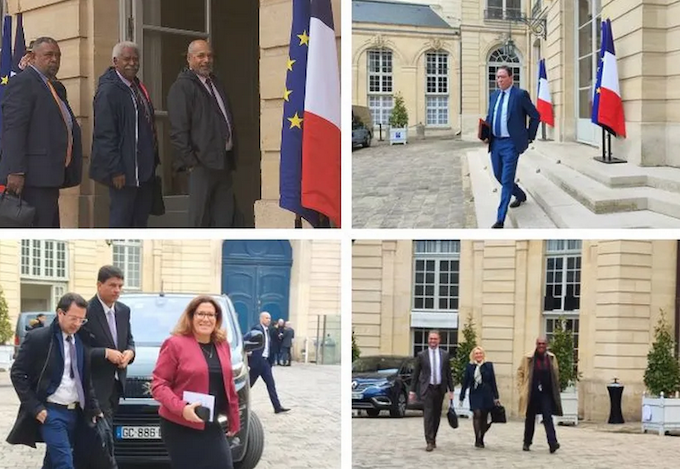 By Walter Zweifel, RNZ Pacific reporter
French Prime Minister Elisabeth Borne has held separate meetings with New Caledonia's rival factions about the territory's future as the 1998 Noumea Accord expires.
The pro-independence leadership is in Paris for the first time since the contested independence referendum process was concluded in 2021.
While Paris has described the meetings as an important step, the pro- and anti-independence sides remain far apart on key issues.
A leading pro-independence delegate Roch Wamytan has told the news agency Agence France-Presse that any substantive talks can only start once France has outlined the trajectory to full sovereignty.
Wamytan has told Borne about the chaotic history of the relationship between the France and the Kanak people since France took over in September 1853.
He has ruled out any commitment to any planned new statute without the consent of the whole pro-independence FLNKS umbrella group.
He has told La Premiere television that France keeps revisiting what had been agreed and settled, such as the restricted electoral rolls that define New Caledonian citizenship and are enshrined in the French constitution.
'No other solution'
"There's no other solution other than to head for independence," Wamytan was quoted as saying.
The anti-independence side wants France to open the rolls for next year's provincial elections to include people who settled since 1998.
A leading anti-independence politician Sonia Backes said once all sides sit around the table, a solution will be found.
Backes said this was done in 1988 when the armed conflict was settled through the Matignon Accords.
In three referendums, voters rejected full sovereignty but the third and last vote in 2021 was boycotted by the pro-independence parties because of the impact of the pandemic.
They refuse to recognise its outcome and have turned to the International Court of Justice to have the result annulled.
New Caledonia has been on the UN decolonisation list since 1986, based on the Kanak people's internationally recognised right to self-determination.
This article is republished under a community partnership agreement with RNZ.