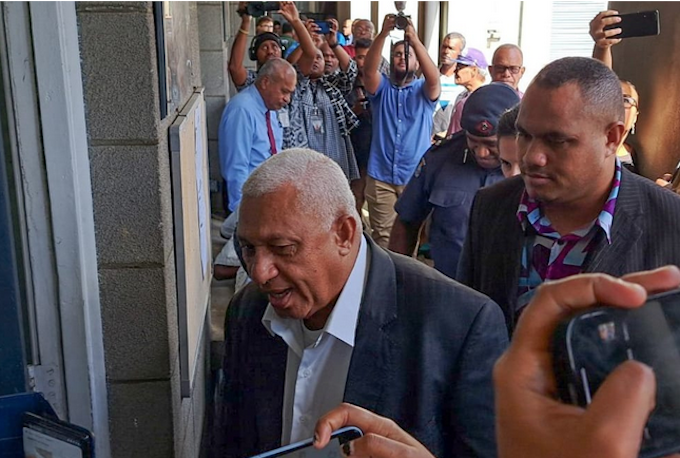 Fiji's former prime minister Voreqe Bainimarama and suspended police chief Sitiveni Qiliho have been granted bail.
Both men have pleaded not guilty to one count each of abuse of office.
Magistrate Seini Puamau has set bail at FJ$10,000 (NZ$7,000), according to local news media reports.
Bainimarama and Qiliho have also been ordered not to leave the country and to reside at a permanent address.
Magistrate Puamau also ordered them not to interfere with witnesses.
They are next expected in court on May 11.
On Thursday, the country's top prosecutor sanctioned charges against the two men for obstructing a police investigation in 2019.
Questioned by pollce
Bainimarama and Qiliho were questioned by the Fiji police investigations unit before being held in remand overnight at the Totogo Police Station in in the capital Suva.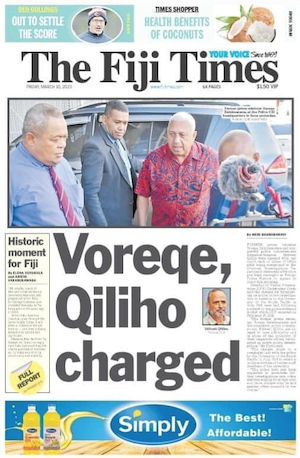 It was the first time for a former PM and a police chief to be kept in a police cell facing such allegations.
The two men were greeted by their family members and friends who gathered outside the courthouse.
The pair were photographed by local reporters smiling as they walked into the Magistrates Court Room 3.
'I served as PM with integrity'
After being granted bail, Bainimarama told local journalists outside the court that he would defend the charges laid against him.
"Look, I want to tell you that I have served as Fiji's PM with integrity and with the best interest of all Fijians at heart," he said.
"I have been served this charge against my legacy so I am going to fight this charge. Not only for my reputation but for democracy, for all Fijians, and of course for the Constitution," he added.
This article is republished under a community partnership agreement with RNZ.
Bainimarama: "I am going to fight this charge. Not only for my reputation, for democracy, for all Fijians, and of course for the Constitution." pic.twitter.com/5ExBntYTbL

— Stanley Ian Simpson (@stansimpsonfj) March 10, 2023