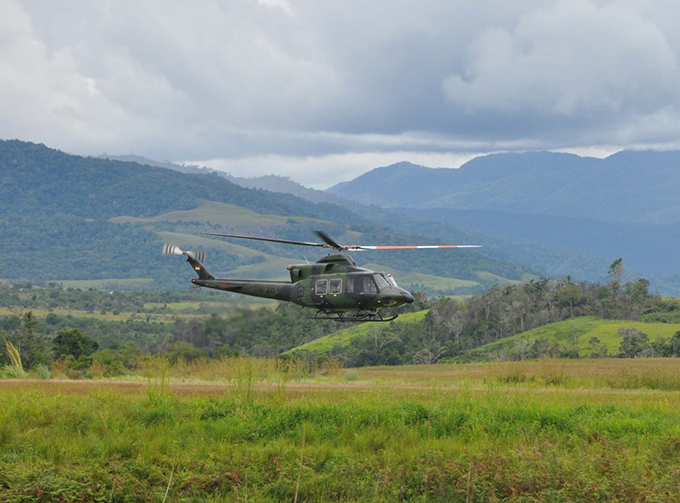 By Gemma Holliani Cahya in Jakarta
Silas Papare Air Force base in Sentani, Jayapura, has reported that an Mi-17 helicopter belonging to the Indonesian Army lost contact after departing from Oksibil airport in Pegunungan Bintang regency, Papua, yesterday afternoon.
The helicopter took off from Oksibil, where it had stopped to refuel, at 11:44 a.m. local time and was scheduled to arrive at Sentani airport, Jayapura, at 1:11 p.m.
The Silas Papare tower officer reported that at 11:49 a.m., five minutes after it took off from Oksibil, the helicopter lost contact.
It had 12 members on board, with seven crew members and five members of the Infantry Battalion 725/Waroagi task force who were being transferred to another post.
Cendrawasih Military Command spokesperson Colonel Muhammad Aidi said a joint search and rescue team comprising military personnel and members of the National Search and Rescue Agency (Basarnas) was deployed on Friday afternoon to search for the missing helicopter.
"At 9:00 p.m. we decided to stop the search because it was raining really hard in the area. We will continue the search tomorrow morning," Aida said.
Aidi said the helicopter was in good condition when it departed from Oksibil. The weather that day was forecast as foggy but with clear visibility at around 6 to 7 km.
However, Aidi said, the Meteorology, Climatology and Geophysics Agency (BMKG) later informed that the weather at several points along the flight route was changing drastically.
"We still cannot say what really happened but, when it comes to mountains in Papua, we often see extreme and drastic weather changes," he said.
The Mi-17 helicopter started its trip on Friday morning, bringing food and supplies from Sentani to the border security post at Okibab district in Pegunungan Bintang.
Aidi said the trip happened monthly because the post could only be reached by air.
Gemma Holliani Cahya is a reporter with the Jakarta Post.