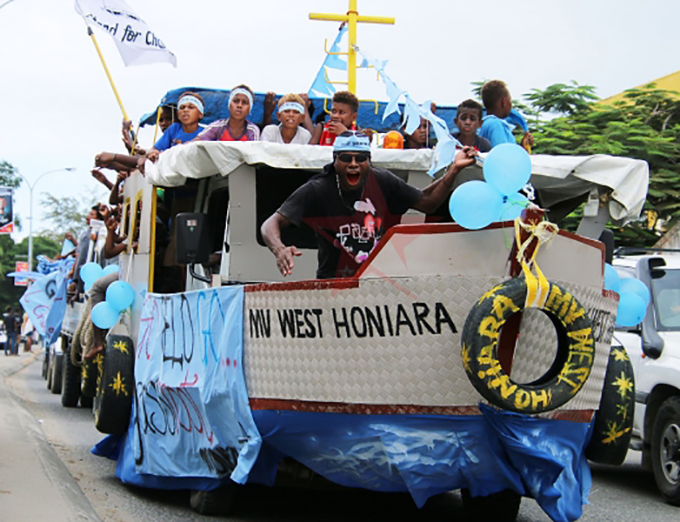 By RNZ Pacific
With less than 24 hours to go before polling booths open for the Solomon Islands election tomorrow, RNZ Pacific's reporter in Honiara, Koroi Hawkins, describes the mood and effect of a first-time campaign blackout period.
Commenting on RNZ Dateline, he described the atmosphere in the capital Honiara today as very quiet, like a "ghost town", especially compared with the colourful float parades of yesterday.
But he also said that in spite of the blackout, most media published political content today.
"All the papers are splashed with various people holding campaign posters. I think there is even one paper that has a political ad still in it," Hawkins said.
"It is a very new thing for the country. So it's the first time they are trying to have a blackout. I think they might have thought they would get away with it; probably just a lack of understanding."
The Solomon Star reported that over the weekend many candidates and their supporters had hit the roads with convoys of truckloads of voters and supporters.
According to the recently passed election regulation, there should be no election related activities from campaigning, parading and displaying election related materials 24 hours before the election day on Wednesday.
Campaign activities
As such over the past few days, Honiara like other constituencies have been busy with campaign activities and street parade, the Solomon Star reports.
With the remaining days before the election, candidates and their supporters had used whatever means they could to reach out to the public.
Many candidates conducted a number of float parades last week with their final one yesterday.
On Sunday, similar parades were conducted within three of the Honiara constituencies after lunch.
This article is republished under the Pacific Media Centre's content partnership with Radio New Zealand.