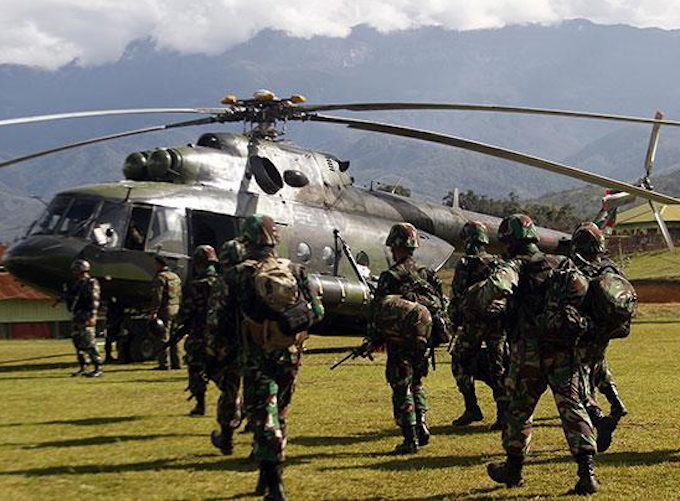 Pacific Media Centre Newsdesk
Six hundred crack Indonesian soldiers are being deployed this week to provide security for the construction of the Trans-Papua highway.
"This time about 600 troops are being deployed – 450 personnel from the Army's Strategic Reserves Command (Green Berets) Raider Infantry Battalion and the remainder from the Zeni Combat Battalion (Yonzipur)," said Hasanuddin XIV regional military commander Major-General Surawahadi.
The general said this during a break in an event marking the deployment of the troops at the Soekarno-Hatta Peti Kemas port in Makassar, South Sulawesi, last Sunday, reports Tempo.
READ MORE: Human rights watchdog calls for police probe into 'unclear' Nduga killings
During the release of the elite troops, Surawahadi reminded them to carry out their duties to the best of their abilities in pursuing the mission to secure the controversial Trans-Papua highway bridge construction.
Work on the highway was temporarily halted after an attack on construction workers by "irresponsible rogue elements".
In carrying out their mandate, Surawahadi reminded them that this was an "honourable and trusted duty" given to them by the state.
"You have been given a duty and responsibility that will not be light in safeguarding the Trans Papua construction, including security disturbances from armed separatist groups", he said.
General Surawahadi added that this "heavy duty" would be light if it was performed devoutly, sincerely and with a full sense of responsibility.
He reminded the troops that they were professional army soldiers who had been trained and loyal and who held firmly to the Sapta Marga (military oath), the Sumpah Prajurit (soldiers oath) and the 8 Wajib TNI (TNI's eight-point personnel duties) as guidelines in carrying out their duties.
"Discipline, loyalty, solidarity and always guarding your character are the hallmarks of skilled and professional soldiers," added General Surawahadi.
Last December, 16 construction workers were shot and killed at the Trans Papua highway in Nduga following in an attack by the West Papua National Liberation Army (TBNPB) led by Egianus Kogoya.
Indonesian authorities described all Papuan pro-independence groups struggling for their indigenous homeland's freedom as "separatists".
Slightly abridged translation by James Balowski for the Indo-Left News Service. The original title of the article was "Jaga Pembangunan Trans Papua, TNI Kerahkan 600 Prajurit".