By Sally Lloyd as told to Scott Waide in Lae
A few days ago, I asked Sally Lloyd about the picture she posted on Facebook of a distraught mother weeping over the body of her baby who had died. This is the story behind the picture.
They are from Fomabi Village near Nomad, Western Province.
The child got sick with pneumonia, I believe and Nomad Health Centre could not help them. The facility there has been very run down and ill equipped for a very long time.
READ MORE: Scott Waide's "My Land, My Country" blog
They then had to make the long walk to Mougulu health centre for many hours to get further help.
Unfortunately, the child died the following afternoon, and without any helpers with them the parents had to walk back to their village with the dead child.
They were of course heartbroken and it was very hard to send them on their way into darkness and a storm.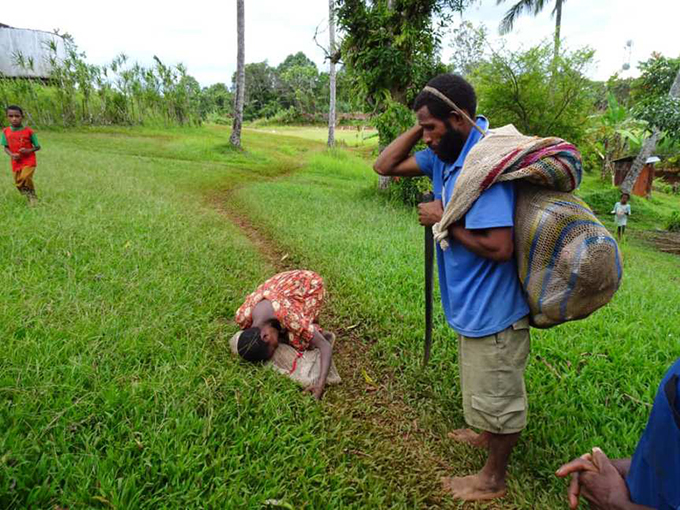 Faced difficulties in life
The woman has already faced some difficulties in her life. She was totally distraught, waving her arms and crying out.
When Sally went to the clinic she said it was her first time to visit Mougulu and this had happened.
Earlier on Facebook, Sally posted:
"That sound I hate…the grief of the parents of this precious eight-month-old indicating the worst had happened.

"This evening they have the long walk back (6 to 8 hours at least) to Fomabi Village with a very heavy burden – almost too much to bear.

"The father offloaded some heavy food items and we gave high protein food and fish, a torch and umbrella – it's going to storm tonight.

"God knows how much we need that emergency vehicle – to bring patients more quickly, but also for parents who should not have to walk a day (or all night) to get home and bury their child."

"RIP Ezekiel."
Scott Waide is a leading Papua New Guinean journalist and deputy news editor of EMTV News based in Lae. His blog items are republished by the Pacific Media Centre on Asia Pacific Report with permission.