The film made its debut at the New Zealand International Film Festival in 2015. Video: JourneymanVOD
By TJ Aumua in Auckland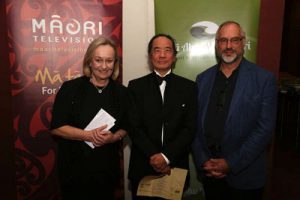 Filmmakers of the New Zealand documentary Price of Peace were honoured this week with the producers receiving an award for their contribution to "peace and aroha".
Director Kim Webby with co-producers Christina Milligan and Roger Grant were recipients of the Te Pou Tatau Pounamu NZ Peace Foundation Award at the Ngā Aho Whakaari (Māori in Screen Production) 20th Anniversary.
Milligan told the Pacific Media Centre that they were honoured to be recognised by their peers and the film community.
She added the film has achieved more success than they had hoped for, reaching mainstream and indigenous audiences around the world.
Tūhoe activist
The film provides exclusive access to the world of Tūhoe activist Wairere Tame Iti and the trial of the Urewera Four' in which Iti and three others were accused of plotting terrorist activities in 2007.
International screenings
International screenings of the film continue this week, with the documentary being featured in the Margaret Mead Film Festival at the American Museum of Natural History in New York.
It was recently aired on Al Jazeera as a Witness documentary under the title An Innocent Warrior. 
In January 2017, it will be filmed at the Skábmagovat -Indigenous Peoples' Film Festival in Finland.
·       A list of all the recipients at the Ngā Aho Whakaari award ceremony