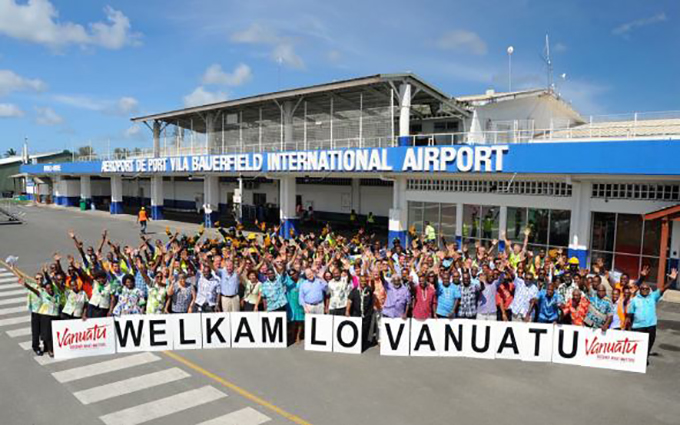 A ceremony on Friday marked the completion of the first phase of rehabilitation for Vanuatu's Port Vila Bauerfield Airport and ushered in a new era of tourism for Vanuatu.
With more flights to return in coming weeks, key industry developments and an exciting, integrated marketing campaign to be rolled out by Vanuatu Tourism Office, the coming months are set to be a turning point for Vanuatu.
Runway repair work was completed in April by New Zealand contractors Fulton Hogan and the Minister for Infrastructure and Public Utilities, Jotham Napat, has appointed an Airport Taskforce to finalise negotiations with the World Bank loan for the second phase of repairs.
Vanuatu Tourism Office's general manager, Linda Kalpoi, is thrilled that the first phase is complete and says it is a boost for Vanuatu's tourism industry.
"This is such an important moment for the tourism industry and we are looking at the completion of this first phase as a launching point for the next exciting stage of tourism for our country," Kalpoi says.
"The Minister for Tourism, Joe Natuman, has announced an all-important recovery campaign, which will roll out in Australia and New Zealand over the next few months.
"The integrated 'Discover What Matters' marketing campaign will include travel trade education, public relations and digital marketing, all developed to inspire and motivate people to book their holidays to Vanuatu and to reconnect with themselves and loved ones."
Aligning with the campaign launch, the tourism industry is busy finalising new developments and improvements that will once again position Vanuatu as a leading holiday destination.
Some of these developments include:
Iririki Island Resort and Spa reopening its door this week after impressive renovations
Global brand, the Holiday Inn, reopening in coming weeks, following repairs
A brand new Ramada property, Akiriki Resort, is well underway
The iconic restaurant Tamanu on the Beach is undergoing a major upgrade, including additional accommodation options and is set to open October 1.
Air Vanuatu announcing increased weekly flights from Brisbane, Sydney and Auckland commencing June 1.
The next phase of the rehabilitation will see the airport meet Code E specifications which will allow it to cater for long-haul flights from wide bodied aircraft – opening the door to more travellers from around the globe.
This news item is republished with thanks to Vanuatu Daily Digest.