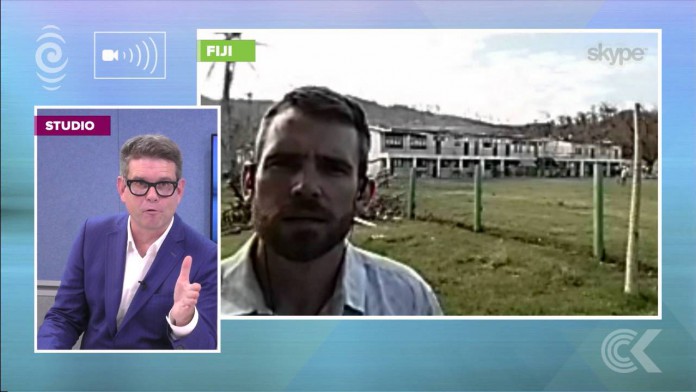 By Alex Perrottet in The Fiji Times

Severe tropical cyclone Winston unleashed the full force of mother nature on a beautiful country.
But the peace and calm that characterise Fiji remains, because while many tourists seek that calm in the still coastal waters and the warm sun, they inevitably find it more in the friendly smiles and selfless generosity of the Fijian people.
I have spent the past two weeks in Fiji following severe TC Winston. I arrived on Monday morning, February 22, only 24 hours after many faced the most intense storm to ever hit the country. Yet I could not believe the resilience, the resolve, and the peaceful acceptance of what had just happened.
I spent hours in villages and settlements, in offices and vehicles from the Yasawa Group in the West to Vanua Balavu in far north-eastern Lau. From Nadi to Suva to Taveuni and remote parts of Ra, to the interior village of Nadelei.
Everywhere I went I saw the same thing — destruction, a certain amount of desperation in parts, but alongside that a deep peace and acceptance of what had happened.
As Dr Sushil K Sharma argued last week, a major category five cyclone like Winston was far too strong for even well-built houses. But what he also argued was that to talk of building standards for such an event was "sheer nonsense".
He wrote of some in the media that "as if by looking at the destruction to buildings they can correctly assess the situation".
Misses the point
I strongly reject those assertions because Dr Sharma misses the point, comprehensively.
Fiji's media did an amazing job in the wake of the cyclone. I thought I was the first journalist to reach Vanua Balavu. I since discovered that before I even left for Lau, Tevita Vuibau of The Fiji Times had taken a ship there, literally hours after the cyclone hit.
Not only was that a scoop, and good journalism, it was brave. He had no idea what he would find out there. But death and destruction were a safe bet.
Journalists like Tevita Vuibau and myself don't look at ruined houses and ruined lives and then make assumptions. We tell people's stories and we ask questions of those in power and relevant positions.
I sailed on the MV Cagivou back from Vanua Balavu last week, after talking to countless people who lost their homes, and to some who lost their loved ones. I spoke to Commander Humphrey Tawake of the Fiji Navy who said more and better tents were needed, and some there would be living in them for up to two years.
Many people in the villages of Mavana, Mualevu and Lomaloma said the very thing that Dr Sharma argues — the winds were too strong and they came from just about every angle. Commander Tawake agreed with him saying whether it's a modern home or a traditional bure, many stood no chance.
But does that mean it's "sheer nonsense" to talk about building standards? Surely not.
A lesson?
Some houses survived. I noted quite a few houses in the predominantly Tongan village of Sawana were standing with their curved outer walls. Is there a lesson there?
On the 32-hour journey back to Suva, I peppered damage assessors with questions. There were engineers, builders, electricians, energy and solar specialists, doctors, nurses, and members from just about every government ministry.
Dr Sharma will be interested to discover that journalism involves more than looking at the damage and walking away.
The builders and engineers noted some of the worst-damaged houses on Vanua Balavu were poorly-built. Many roofs were not properly strapped onto beams. Concrete was not poured into many of the foundation blocks — in many instances it was found only in the corner blocks.
They also noted that people in remote places are not taught about how to minimise the pressure inside the house during a cyclone and if they had, perhaps fewer roofs would have been lifted off.
It's true, Severe TC Winston was a terror of a force. Even the best efforts were rendered futile against the sheer power of 330 km per hour winds, (not 330 knot-winds as Dr Sharma wrote — that would be over 600km per hour).
But surely this is a chance to build back stronger. God forbid every future cyclone is going to be like Winston.
Improving standards
It is always worthwhile to try to improve building standards. To assume that is a waste of time is dangerous and missing a crucial opportunity.
In remote Fijian villages, the practice of obtaining resource consent for building is very different from mainland towns. It's a long way from the regulators.
Damage assessors told me the government needs to put out tenders to companies for the rebuild in those remote parts, so that they can bear the burden of compliance.
It was good to see just that happen on page 5 of the Fiji Sun newspaper on the Saturday after the cyclone. The government was already on the job.
Dr Sharma is right, it's hard to fight nature. And it's inspiring to see both the resilience, and acceptance in the attitude of Fijians in the aftermath.
But surely it would be akin to piling one disaster onto another if Fiji misses the opportunity to build back better. A poorly-built house will always suffer more in any disaster. And Fijians, particularly the poorer ones, deserve better than that.
Alex Perrottet is a journalist with Radio New Zealand International and spent two weeks reporting in Fiji after the Winston disaster, and was still there reporting long after other New Zealand media journalists had returned home. He is a former Pacific Media Watch editor at the Pacific Media Centre.

'Hurricane' Winston – we're lucky catastrophe didn't strike Suva