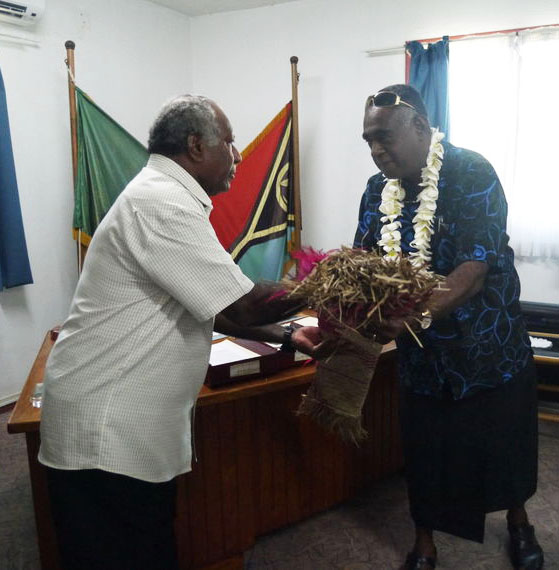 Vanuatu's Opposition has suggested to the Head of State, President Baldwin Lonsdale, that any decision to free 14 former MPs jailed for bribery should be done in proportion to everything that concerns fairness and the country's custom of forgiveness, reconciliation and rehabilitation.
"That way in the eyes of the people and the public they can see that there is fairness proportional to things that happened," Opposition Leader Ishmael Kalsakau said this when a high level delegation from the Opposition made a courtesy call on the president.
"You may be aware of different feelings about some of our leaders who have gone to jail for wrongs done against our nation. We recognise your role in times like these for those affected by these sorts of situations in our nation," Kalsalkau said.
"We have not come to tell you how you will do your job i. We are here to let you know that we recognise that there is a possibility and a potential that you can play a role in this situation.
"We understand that on the government side in their 100-day plan they state under their MOA agreement that pardoning should take place.
"But that is theirs for which they will approach you on. But we are here to say that yes, under our custom for us to move forward, we reconcile, forget difference, but everything must be in proportion.
"That is one issue we want to raise in passing by way of this courtesy call to you."
Kalsakau said the Opposition recognised the crucial role the President played as anchor to the nation through his leadership during the political and leadership crisis of last year leading to the snap election.
He informed the president that his Opposition group had members from different political groups, but that they felt the pain of the people of the nation brought about by divisions. Hence they had decided to move together as one.
"Anyone who wants to discuss any issue for the benefit of one of us, it has to be for the benefit of all of us," he said.
"We want to let you know that our theme that we want to move forward with is 'forgotten people, forgotten places'.
"During our calls to the Australian and New Zealand high commissioners this week, it was a big emphasis. And we were informed by them that they want claims from Torba to come quickly so they can assist the province, and its forgotten places where ships go once in three weeks.
"All the time in the past, Members of Parliament who find themselves in Opposition, run to get into government.
"But our focus is that on forgotten people, forgotten place, we can consolidate the Office of the Opposition in such a way that members of Parliament irrespective of which side of the house they find themselves, if in the Opposition should not feel neglected.
Jonas Cullwick, a former general manager of VBTC, is now a senior journalist with the Daily Post.