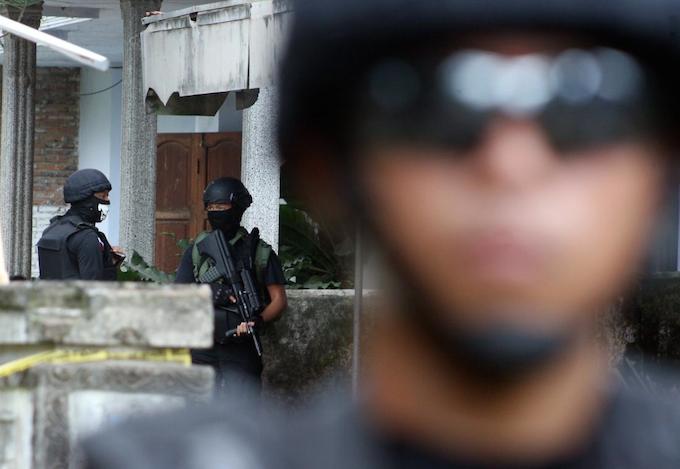 Report from Agence France-Presse in Jakarta
Although Thursday's Jakarta attacks have been blamed on militants recruited by the Islamic State in Syria, with the international media blaming the bombings as an ISIL terror assault, other NGOs based in Indonesia have provided more insightful analysis that reflect the reality on the ground.
Andreas Harsono, a researcher at Human Rights Watch Indonesia based in Jakarta paints a different picture of the attacks which he termed as "home-grown terrorists trained in Indonesia using low tech weapon and explosives" in an interview on BFM radio.
"I took a look at the damage at Starbucks which is the worst damaged. I thought it was a low tech, low skill attack bombing.
"Why, only two victims were killed in that incident and 5 terrorists were all killed by the police.
"If the terrorists were using hi-tech explosives and real guns, AK47 or M16, I cannot imagine the damage."
The civilians killed were reportedly a Canadian and an Indonesian. Indonesian anti-terrorism have since the attack carried out several house raids and made arrests of suspects involved.
Harsono sought to clear the misconceptions about the attacks which have been linked by media to earlier large scale bombings especially the Bali bombings in 2002 which killed 202 people and injured another 209.
In the Bali bombings, a suicide bomber blew himself up in the club which caused people to panic and run out to be killed when a car bomb exploded killing most of the victims which he described as a typical terrorist attack but he compared it to the amateurish attempt on Thursday at Starbucks Sarinah.
"In the Starbucks case yesterday, the suicide bomber was overcome by the police, and then people panicked when he was killed and they ran out. Two other shooters were waiting outside, shooting at them.
'Homemade guns'
"Again they were using homemade guns and homemade bombs, the number of victims were quite minimum, I have to say 20 people were wounded, mostly police officers," he said.
"Yesterday attackers, they were low-skill. I am afraid that they are home-grown, maybe they came from the outer islands of Java.
"They are not battle-hardened jihadists from Syria. Knowing their weapons, their methods, it was pretty low skill."
However, Harsono warned of the impending threat posed by the hardened and radicalised Syrian-trained terrorists such as the mastermind who has been identified by Indonesian police as Bahrun Naim.
"He was an internet cafe owner in Western Java. A few years ago, he was arrested and jailed for 3 years for belonging to a radical Muslim organisation. After his release, he was able to travel to Syria and is now based in Raqa, the capital of IS.
"He has a blog and he is also using social media to recruit people and he wrote in his blog encouraging people to take their war from the outer islands to the cities, in this case Jakarta.
"I am afraid if this presumably about 500 jihadists who are going back to Indonesia and also Malaysia and maybe Singapore, they might create a lot of problems.
"If the ones who come from Syria are going back home I think they are going to have a more serious problem, like the Jemaah Islamiyah who returned from Afghanistan previously."
However, Andreas ended the interview with a hopeful note pointing out that Indonesians were not bowed by these attacks
"On social media, there is a trend, hashtag #kamitidaktakut. We are not afraid. It shows how resilient Indonesians are. Today, at 4pm there will a rally right at the bombing site, Sarinah building.
Harsono said that the mood on the ground was a growing determination to show the terrorists, whether homegrown or Syrian-trained, that their violent campaign would not deter the people and reap its goal of spreading terror in Indonesia.
"We will not sacrifice our civil liberties, our religious freedom for this violence," he said.
#kamitidaktakut