Report from Paris by France 24
The French capital has held the first in a series of solemn commemorations and gatherings to honour the 17 victims of the January 2015 terrorist attacks that began at the satirical magazine Charlie Hebdo.
Three commemorative plaques in memory of those killed at the offices of the Charlie Hebdo weekly on January 7, 2015, and at the Hyper Cacher kosher grocery store two days later, were unveiled on Tuesday in the presence of President François Hollande and the families of the victims.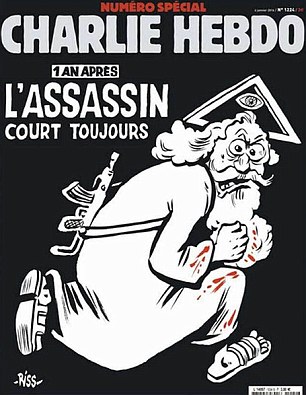 The ceremonies, each including a minute of silence, mark the beginning of week-long commemorations in Paris in remembrance of the tragedies.
A first plaque was unveiled near the headquarters of Charlie Hebdo in central Paris, where two masked gunmen killed 11 people, including Editor-in-Chief Stéphane Charbonnier and a policeman assigned to his personal security.
The plaque begins with the inscription "To the memory of victims of the terrorist attack against freedom of expression" and lists the names of the victims in chronological order.
Hollande was joined by Paris Mayor Anne Hidalgo, as well as France's interior, culture and education ministers. After the minute of silence, Hollande embraced Maryse Wolinski, the widow of one of the slain cartoonists.
In a much-commented slip-up, Wolinski's name was mistakenly spelled with a Y on the plaque, with Mayor Hidalgo saying the typo would be immediately corrected by the company hired to carve the inscription.
A second plaque near the scene of the massacre honours Paris police officer Ahmed Merabet, a Muslim who was shot dead while trying to stop the assailants from making their getaway.
Porte de Vincennes in eastern Paris was the site of the final commemoration on Tuesday, this time in memory of four people – all Jewish – who were killed when a different gunman attacked and barricaded himself inside a kosher supermarket on January 9, 2015.
A fourth commemorative plaque in memory of an unarmed municipal policewoman, who was killed by the Hyper Casher attacker in the Parisian suburb of Montrouge, will be unveiled on Saturday morning.
This week will also see a ceremony at the Paris police headquarters, where Hollande will address military personnel who have been deployed as security reinforcements in the French capital since last year's attacks.
Commemorations will culminate with the unveiling of a "Tree of Remembrance" at Place de la République on Sunday morning. The iconic square in central Paris became the site of spontaneous rallies in defiance of terrorism in the wake of the Charlie Hebdo shootings in January, and the even deadlier Paris attacks last November, in which 130 people were killed.