POPULAR NEWS
A West Papua video marking the global Morning Star flag-raising event today. About 20 academics, librarians, journalists, students and Pacific issues activists gathered at the...
ANALYSIS: By Steve Sawyer Looking back at 2016, it's easier to come up with a list of bad things that happened than good: Brexit,...
WORD CUP 2016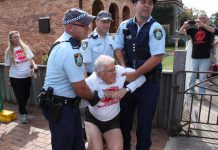 A controversial roads project has angered local communities leading into this month's Federal election in...
Al Jazeera's Step Vaessen reports from Jakarta on the sentencing of Ahok to two years...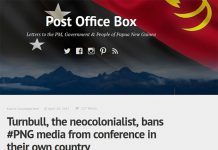 COMMENT: By Keith Jackson That was one strange weekend Malcolm Turnbull just spent in Papua New...
WRC Rally Cup
EMTV News bulletin on the Highlands joint security forces parade in Mt Hagen. Pacific Media Centre...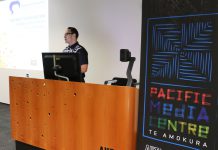 By TJ Aumua The World Journalism Education Congress preconference for JERAA and the region began today...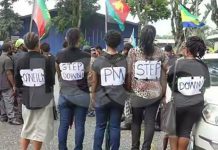 By Nellie Setepano in Port Moresby Papua New Guinea's National Court has dismissed stay orders preventing...
CYCLING TOUR
"Together, we must take action to protect our world" - Shalvi Shakshi's inspirational climate story. Video: UNICEF Pacific Media Centre Newsdesk Greenpeace has called for climate...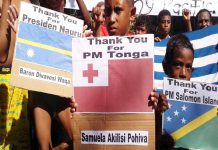 West Papua will be granted full membership of the Melanesian Spearhead Group (MSG) in December, 2016. The Vanuatu Daily Post reported that the announcement was...
Prime Minister Peter O'Neill casts his vote in home village of Kauwo. Video: EMTV News By the EMTV News elections coverage team Papua New Guinea Prime...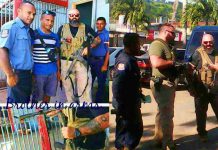 Pacific Media Centre News Desk A group of United States security contractors engaged by Papua New Guinea's police chief to give firearms training have been...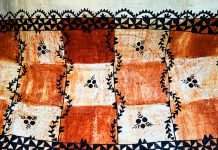 By Kateni Sau in Wellington "I realised that the thinking of a society is greatly influenced by what they read, listen to, and watch --...
TENNIS
Children as young as five have become the latest victims in what's believed to be the bloodiest week in the Philippines since President Rodrigo...
The Death of the Balibo Five ... a Footprint Films extra including clips from the film Balibo and interviews with the film director, Robert...