LIFESTYLE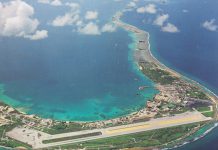 RNZ Pacific The US Defense Department is to report to the US Congress by December 1 on a range of security concerns in the northern...
Talk to Al Jazeera in the Field programme features Tommy Suharto. Pacific Media Centre Newsdesk The Suharto political dynasty is being revived in Indonesia, reports Al...
REVIEWS
By Anita Roberts in Port Vila Vanuatu's government is moving the entire population of 11,000 people from Ambae to the neighbouring islands of Pentecost, Maewo,...